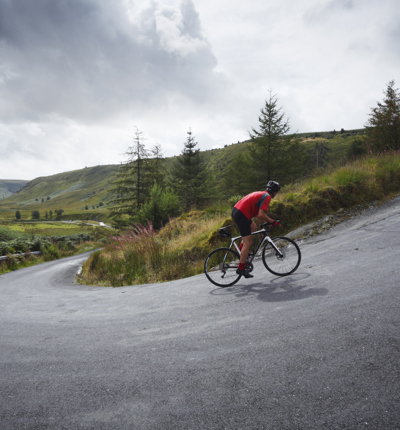 Why cycle up a very steep hill?
William Broadbent explains the mystery: Why cycle up a very steep hill?
Posted on 06 October 2020
It is a question that a lot of my non-cycling family and friends ask me. Indeed, even I have thought of hills as something to dread on the bicycle rather than to enjoy. However, 2020 has been an unusual year to say the least and, with the cancellation of all the mass participation rides I was due to take part in due to COVID-19, hill climbs seem to be one of the only events to have survived the restrictions. I therefore decided it was time to give one a go.

There is little mystery to what a hill climb is. A race up a hill with the fastest person winning. More of a mystery is why people do them and I wanted to find out.

The event I picked was through the Whinlatter Forest in the Lake District, organised by Velo Club Cumbria.

At just under three kilometres long with an average gradient of just under seven per cent but section reaching up to 15 per cent, it is not considered a hard climb in ardent cyclist's circles, but for me, at 6ft 3ins and pushing 15 stones, it is a mountain. I had done it once before, but when much fitter and a little bit younger. Even then, I recall that it was a long way up. And that was at a relaxed pace.

The two motivators behind me were my brother and one of his friends from Velo Club Cumbria. Both weighing at least two stones lighter than me and having spent many years riding round the mountains, look more like what you expect a hill climber to look like – highly tuned athletes with lightweight bikes.

Anxious about getting up the hill once, greeting me by saying that they have done the climb twice before I got there and it was good conditions, didn't fill me with confidence that I was well suited to the event. Suggesting that I did the climb as a warm up, didn't help. Seeing the other competitors further compounded my feelings of being out of place.

Truth be told, I knew I was never going to be competitive in the event and being overtaken by only two riders (who will have started a minute and two minutes behind me respectively) felt like a bit of an achievement for a first attempt.

However, even with this I understood a little more about hill climbing. It is a race and you do want to do as well as possible, but it is also a personal challenge to do as well as you can and it feels like a great accomplishment, even if you do get overtaken.

It is exhausting but exhilarating. The support of those on the roadside is also a massive fillip. They don't care about your time, there is just an appreciation and a respect for putting yourself through it.

And that is the answer. It may be tough and it may be painful, and you may not be challenging for any prizes, but the sense of achievement is definitely worth it.

I cannot wait to do it again and have already signed up for my next – Holme Moss back in my native West Yorkshire. Maybe one day I'll be competitive, but that doesn't really matter.

As it was a race though, my finishing position and time are obviously what will be recorded and so I may as well come clean. With this in mind, my position was still in the saddle at the finish line and I had a great time, thank you.