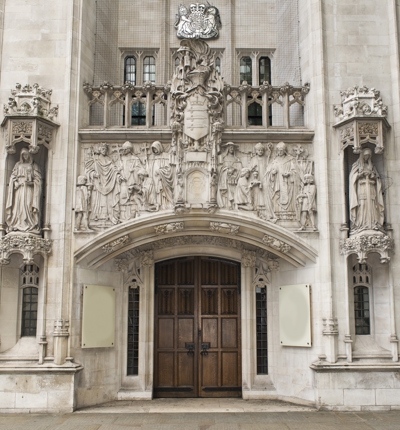 ​Unlawful immigration detention: latest Supreme Court ruling has wide-ranging implications
Waleed Sheikh, from the human rights team, and Claire Powell, from the employment and discrimination team, discuss the recent Supreme Court decision in R (DN (Rwanda)) v Secretary of State for the Home Department and its implications for others in a similar situation.
On 26 February 2020 the Supreme Court gave judgment on the case of R (DN (Rwanda)) v Secretary of State for the Home Department. The case was an appeal by a Rwandan national, known as DN, who is recognised as a refugee in the UK, against his detention in an immigration detention centre on the basis of an unlawful deportation decision. The Home Office argued that while they now accepted that the deportation decision was unlawful, it did not mean that the decision to detain DN was.
 
The Supreme Court disagreed with the Home Office and allowed DN's appeal. They ruled that the decision to detain is always referable back to the decision to deport. So, if the initial decision is unlawful, so is the subsequent detention.
 
This means DN can pursue a claim for damages for false imprisonment.
 
This is a hugely significant decision, which could affect thousands of similar public law claims.
What is immigration detention?
Immigration detention is the term used to describe the detention of people subject to immigration control by representatives of the Home Office (immigration officers).

There is no limit in UK law on how long a person can be detained for, and the decision can be made by an individual immigration officer. There is not an automatic right to immigration bail, and it can be extremely difficult to hold the Home Office to account for decisions relating to detention.
 
Article 5 of the European Convention on Human Rights says that detention must be proportionate to the objective, and this is confirmed in UK law under the Human Rights Act 1998. The government says that immigration detention should be for the "shortest period necessary" and is rarely used.
 
However, this does not seem to be the case. And with increasing cuts to public funding, and legal aid providers few and far between proper representation and assistance for immigration detainees is rare.
 
So, why was DN detained, and what is the effect of his case on immigration detention?
What did this case say?
DN was recognised as a refugee and granted leave to remain in the UK. He was convicted of several offences in the UK the most serious of which led to a prison sentence of 12 months. This was combined with other shorter sentences (for separate offences) and DN was imprisoned for 18 months in total.

Using powers under the Nationality, Immigration and Asylum Act 2002 - which permits the revocation of refugee status, and the subsequent deportation, of those convicted of 'serious offences' – the Home Office made a deportation order against DN on 2 July 2007.
 
On 31 January 2008 DN was detained, pending his deportation. DN challenged the deportation decision by way of a judicial review. Following a separate Court of Appeal decision (EN (Serbia) v Secretary of State for the Home Department [2009]) it was decided that the 2004 legislation was unlawful and should not be relied upon.

DN changed his judicial review to focus on the lawfulness of his immigration detention and his case was eventually dismissed by the Court of Appeal who followed the decision of R (Draga) v Secretary of State for the Home Department [2012] which said that detention was lawful, even where the decision to deport was not.
 
DN appealed to the Supreme Court, and his case was supported by written submissions from Bail for Immigration Detainees (BID).
The Supreme Court allowed the appeal and said that DN should be able to pursue a claim for damages for false imprisonment.
What are the implications of the case?
Lord Kerr of Supreme Court gave the judgment, with which Lord Wilson, Kitchin and Lady Black agreed. He made the following key points:

i) Following the case of R (lumba) v Secretary of State for the Home Department [2011]  it is clear that detention is unlawful where there is no power to detain, and where the power to detain was made in breach of a rule of public law. The idea that the power to detain is an independent one is not correct.

ii) Detention is entirely dependent on the decision to deport. DN's detention and the decision to deport were 'uniquely linked'.

iii) The previous decision, separating detention and deportation the Draga case  was incorrect.
The implications of this decision are significant. If a person is detained on the basis of an order which is later decided to be incorrect in some way, or made unlawfully, they can make a claim for unlawful detention.
 
For DN, who was detained for 242 days, damages could be worth thousands of pounds, and there are likely to be many others out there who could bring similar claims. Most decisions to detain are based on a previous, separate decision: a refusal of an application for asylum; an order for deportation; concluding that a person is not a victim of trafficking.
 
Decisions which are changed due to new information or evidence being considered or are revised as the original decision raised human rights issues, will not be the sort of public law acts that make detention unlawful. It will be where a decision is later found to be unlawful or made in a way that was unlawful that a claim may be successful.

From a public law point of view, this could have significant implications.
How can Leigh Day help?
Leigh Day are bringing a similar claim for those who have been subjected to immigration detention. in particular those who were detained after coming to the UK through another European country and were detained between 1 January 2014 and 15 March 2017.
 
To find out more about immigration detention, and how to help those are detained, some good websites are BiD and Free Movement.