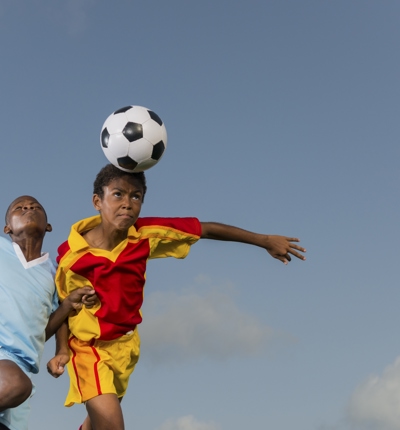 The Independent Inquiry Into Child Sexual Abuse Truth Project into abuse in sport
Catriona Rubens discusses how The Independent Inquiry Into Child Sexual Abuse has missed the opportunity to investigate child sexual abuse in sport.
The Independent Inquiry Into Child Sexual Abuse (IICSA)'s Truth Project into child sexual abuse in sport was a valuable opportunity to learn from player and athlete survivors. With the Tokyo 2020 Olympics postponed, the report's publication this month has coincided with a possibility for reflection and change across all fields of sport in the UK.
 
This opportunity has been sorely missed by IICSA, which only managed to take accounts of 64 survivors of abuse in sporting contexts. Contrast this with the NSPCC's helpline for abuse in football, which received 860 calls in its first week when it was set up in 2016. The problem is not a lack of individuals willing to speak out, but rather a failure by the Inquiry to ensure that their voices were heard.
 
IICSA has rightly acknowledged that the small sample does not reflect the findings of other investigations.
 
None of the participants mentioned a desire to progress in their sporting career as a reason why they did not speak out against abuse. This fails to account for the huge power a coach often wields over ambitious athletes, particularly when they are responsible for training, attendance at competitions, and selection for national squads.
 
The wider structures of high-pressured sports often reinforce the coach's power and prevent young athletes from feeling safe enough to raise concerns.
 
This has been starkly exposed recently by young British gymnasts who have spoken out against an environment of "fear and mental abuse"  in Team GB. 
 
Medal winning athletes Ellie and Becky Downie say it has taken years to for them to come to terms with the conditions they trained and grew up in.  
 
It is only by recognising the environment and culture that surrounds child abuse in sports that we can remove the opportunities for perpetrators to act:
 
 The coach / athlete relationship is often uniquely intense, particularly at elite levels, and takes place when the athlete is young and impressionable. Sporting success can depend on doing exactly what the coach says, without question.
So often, a young athlete's self-esteem and sense of themselves is inextricably linked to their performance. Fear of jeopardising their prospects or place on the team sits side by side with their passion for the sport.  
Sports can require legitimate physical touch by the coach, to readjust positioning or demonstrate technique. Perpetrators can hide behind the guise of carrying out their role to engage in increasingly abusive behaviour.  
 Trips away to competitions or training camps provide environments far from home where athletes are entirely reliant on coaches and team staff for care. 
 Coaches are often prominent or former athletes themselves, well recognised and connected within the sport. Their status and outward respect can loom large over a victim considering whether to raise a complaint.   
There can be a huge amount at stake for an athlete who breaks rank and speaks out against their coach: social standing in the team, personal and club reputation, career progression, friendships. Young athletes' lives are often built around their sport and the community that surrounds it. 
 
This power imbalance between a coach and a young athlete remains even when the child turns 16. In cases I have worked on, predatory coaches have groomed and manipulated young athletes for years before their 16th birthday, with devastating consequences for the athlete's career and mental health. When they remain the coach, and then enter into a 'relationship' with the 16 or 17-year-old athlete, we must question whether the child can really give informed consent. In my view, these types of relationships must be viewed as abuse. 
 
Currently, it is not illegal for sports coaches to engage in sexual activity with a young player or athlete if the child is over the age of 16 and, purportedly, consents.  Unlike with other positions of responsibility, such as teachers or doctors, a coach will not be committing a crime under the Sexual Offences Act if they begin a sexual relationship with them.
 
The IICSA Truth Project only managed to hear from survivors who were abused in sporting contexts before 2012, but this is far from a problem of the past.
 
A recent BBC investigation revealed that there were more than 160 incidents of sports coaches engaging in sexual activity with a 16 or 17-year-olds in their care since 2016. The outdated and dangerous legal loophole means that none of them will face prosecution. 
 
Sports at any level should be an opportunity for children to gain confidence, enjoy exercise and develop passions. In order to do so safely, the government must recognise the particular features of sporting environments and urgently expand the Sexual Offences Act to make it a crime for coaches to engage in sexual activity with young athletes. 
 
With the Olympics on 'hold' for a year, we have an opportune moment to examine whether the right balance is being struck between encouraging competition, psychological resilience, and ambition, and cementing sporting environments where young team members feel safe and supported to speak out against all forms of abuse.
 
Only when we prioritise the physical, emotional and mental well-being of children above medals and sporting success will the UK have a sporting culture that empowers all young athletes to flourish both inside and outside the arena.