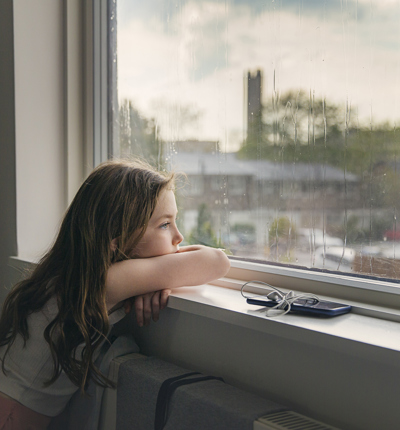 The forgotten impact of Covid-19 on children
Have we forgotten about children while responding to Covid-19? Alison Millar and Marek Marczynski discuss the impact of the UK Government's Covid response on children.
Posted on 27 October 2020
Covid-19 has caught the world, and many of us as parents, unprepared. We are still learning about the full impact of the virus on our health and as we enter the "second wave", more
worrying cases of "long Covid" have come to light and it is apparent that stress, anxiety and depression levels are soaring under the impact of both the virus and the restrictions imposed to keep us safe from it.
The pandemic has also exposed and amplified in the most dramatic way many social problems that our societies have failed to address for decades.
The good news is that children seem to be much less directly affected than adults by Covid-19 infections. But this is pretty much where the good news ends for many children.
Experts have warned that while lockdowns have proven to be successful in suppressing the spread of the virus short-term, the impact of those measures on children has been highly damaging, disproportionately so for children who may already have been struggling.
According to the Institute of Fiscal Studies,
school closures increase educational inequalities
. This is because children from disadvantaged families are often are not as well set up for distance learning as other pupils. They also have less access to individualised resources such as private tutorials. The damage done by missing out on school may never be fully repaired for them.
For many children from disadvantaged families, school is much more than just a place where they learn. For some it is also a place where they get the only substantial meal during the day. It is beyond belief that despite huge public pressure spearheaded by the campaign led by Marcus Rashord MBE, the Westminster government is still refusing to provide free meal vouchers for disadvantaged children in England during school holidays.
Due to Covid, many working parents have been under a lot of pressure to manage home schooling and childcare alongside work. Some children have been left to their own devices – often quite literally, as children have spent increasing numbers of hours online.
A study in the US
found out that children spent 500 per cent more time online during lockdown than before while parents do not always know what content their children are seeing.
There must be a risk of potential mental health problems associated with the increased social isolation and the more disinhibited language of online communication, which children may not be equipped to deal with.
According to the Guardian
which has investigated the matter, prescriptions for sleeping pills for under-18s rose by 30 per cent between March and June 2020 compared with two years ago, while one of the largest private eating disorder services reported a 71 per cent rise in admissions in September compared with the same period a year ago. The investigation also identified that reports of safeguarding issues, in particular self-harm, were up by 77 per cent among secondary schoolchildren.
The pandemic has also amplified the long-lasting issue of children experiencing and witnessing sexual and physical abuse. This month the
NSPCC recorded
a steep increase of 49 per cent in the number of calls and emails it received about children trapped in abusive homes.
I am concerned that the lockdown will have created a fertile ground for abuse, with the lack of contact with the external world and reduction in protective services
increasing children's vulnerability
.
In more normal times, the network of contacts around a child might be able to spot the early signs of abuse and neglect; teachers, GPs, relatives or neighbours could see a change in the child's behaviour, signs of physical injury or violence in the family home. During lockdowns, however, those children have been hidden from view.
By Statutory Instrument 2020 / 445, straitened social care services were given "easements", relaxing their duties to children in care, to enable them to cope with the foreseen staffing shortages and increased demand associated with the pandemic.
This removal of vital safeguards for some our most vulnerable children such as statutory visits and reviews, scrutiny of children's homes, fostering and adoption, was much criticised and most of the legal protections taken away have now been restored.
However, it is troubling in the extreme that the Government's emergency response was to implement a measure that will have put many children at greater risk of harm when they were most isolated.
The Joint Parliamentary Committee on Human Rights has questioned whether SI445 was a proportionate response to the challenges posed to the children's social care system by Covid-19. I totally agree with the conclusion of the Committee that emergency measures such as this "must only continue if they can be shown to be absolutely necessary and proportionate." In my view they are unlikely to be.
Similarly, the impact of the 'rule of six' on children seems not to be fully thought through. Although at school children spend time in large groups, they are now prevented from meeting outside school settings, even if they attend the same class. The Children's Commissioner has argued that this is disproportionate and children's right to play together after months of isolation should be preserved.
Larger families are also disproportionately affected; a family of two parents and four children is unable to meet a single person. This does not seem to be fair or rational, which is the reason why the Welsh and Scottish governments introduced exemptions for children under the ages of 11 and 12 respectively.
As the country struggles to cope with the ongoing Covid crisis, the legacy of which is likely to felt by our young people for many years to come, the Government must scrutinise further exceptional measures to ensure that they do not disproportionately impact on children, particularly the already vulnerable and disadvantaged.
As an abuse claims lawyer, I often see that the full consequences of abuse and neglect do not come to light until many years later. I also fear that we will be seeing the true legacy of the current crisis in years to come.
Once the virus is 'sent packing' the government should take a step back and rethink its overall policies on children so that the long-term problems of physical and sexual abuse, hunger and deprivation, which existed long before Covid, are dealt with before the next crisis hits.