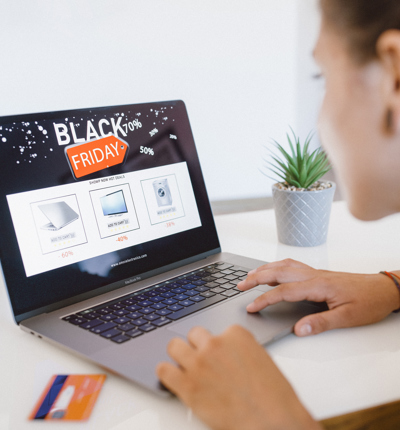 Protect yourself from unsafe purchases in the Black Friday sales
The Black Friday sales have come early this year, with many already well under way during lockdown Jill Paterson and Andy Vaughan-Davies set out some things you might want to think about if you are considering buying home appliances.
Posted on 25 November 2020
The Black Friday shopping bonanza is well and truly upon us, with many pre-Christmas discounts, offers, and deals having already launched, giving the consumer more time to grab a bargain than just one frenzied day.  Those deals include products and appliances that we purchase, perhaps for our homes, or as a gift for a loved one this yuletide. 
 
In my (Andy) experience as a London Fire Brigade fire officer, including 20 years as a fire investigator, I have experienced and witnessed the devastating and tragic consequences of fires caused by products and appliances in the homes of Londoners.  I am now part of the Consumer Law and Product Safety team at Leigh Day and have sadly already seen that those same tragic, life-changing, fires are occurring right across the United Kingdom.
 
Here are some of the ways you can protect yourself from unsafe products as well as empower you in what you decide to purchase.
 
Register your product – When you've opened up your product and checked it's ok, why not register it? This means that you can be contacted should there be a problem with the product in the future. While you're at it, you can also register old appliances that you may have forgotten about, or have perhaps inherited as part of a home purchase, left for you to have by the previous home owner. You can register products, old and new, very easily here.
 
Check for recalls – As well as doing some simple web searches with key words such as "safety notice" and "recall", there is also a government website that you can check to see whether a household appliance has been recalled.
 
Beware counterfeit products - While you're shopping, remember that unfortunately there are many counterfeit products sold, often at "too good to be true" prices. Always buy from trusted, reputable retailers and from their own website if you can.
 
Consider a metal-backed fridge - If you're considering buying a new fridge or fridge-freezer to keep things cool this Christmas, a word of advice. All refrigeration products are insulated with polyurethane foam to keep the food compartments cold.  When this foam burns it produces thick, acrid, toxic smoke and intense, unbearable heat.
 
The dangers of refrigeration appliances have been highlighted for many years and change has been agonisingly slow in coming. Some manufacturers have led the way in improvements by covering the refrigeration appliances' insulation with a material that prevents ignition of the flammable insulation.  Ideally this would be metal, but other materials can be used to prevent the insulation from igniting and burning. Some white goods sellers now state the type of backing material being used to prevent the foam from burning. 
 
It really is worth taking the time to look. You can watch this London Fire Brigade video to see why.
 
Smoke alarms and Carbon Monoxide detectors – If you don't have a smoke alarm or carbon monoxide detector, why not pop some in your basket as well? Alternatively, you may be able to book an appointment with your local fire brigade who may still be carrying out home safety visits in a Covid-safe way.
 
"And Finally"… is now the best time to buy? This article titled "5 appliances you should never buy on the cheap – and the best time to buy them" explores the best time to buy and "invest in good quality appliances".
 
The appliances we use in our homes must not endanger our lives or destroy our homes. For more information, have a look at the London Fire Brigade's "Total Recalls" campaign.
 
Keep safe and enjoy your Black Friday and Cyber Monday bargain hunting.
Jill Paterson
Partner
Jill Paterson is a renowned market leader in representing people who have been harmed