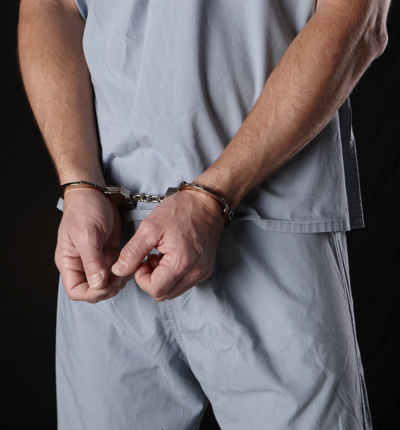 ​Prison service must strike a better balance on the use of handcuffs on prisoners in hospital
Benjamin Burrows and Ellie Sutherland discuss the use of handcuffs on prisoners accessing hospital treatment and argue that it is a balance that the prison service is repeatedly getting wrong.
Posted on 14 December 2020
A recent report published by the Independent Advisory Panel (IAP) on Deaths in Custody has recommended clearer policy guidance on the use of handcuffs on prisoners admitted to hospital, adding to the increasing body of critique of the inhuman and degrading practice which remains all too prevalent in our prison system.

The IAP's report, Avoidable natural deaths in prison custody: putting things right, written in collaboration with the Royal College of Nursing, finds a "pressing need to review and overhaul policy and practice in regard to the cruel and inappropriate use of restraints, from shackles to escort chains, when escorting, or supervising in hospital, people who are frail and seriously ill".

Prisons are required to conduct an individual risk assessment prior to any prisoner attending hospital. The purpose of the risk assessment is to determine whether or not the use of handcuffs is appropriate and, if so, the level of restraint required.

Prison staff must consider a variety of factors when conducting such assessments, including the prisoner's offending history and any potential risk to the public and hospital staff. However, they must also take into account a prisoner's health and mobility when deciding whether or not handcuffs are appropriate for use on a prisoner receiving medical treatment, and any use of restraint in these circumstances must be necessary and proportionate.

Despite the mandatory requirement for the prison service to conduct these risk assessments, as well as supporting guidance on how these assessments should be carried out effectively, it is clear that establishments across the prison estate are failing to do so and, in turn, are failing to treat the individuals in their custody with the dignity and respect they are entitled to.

In some cases, prison staff fail to conduct an assessment which contains any meaningful consideration of the complex and intimate factors at play for these vulnerable individuals.

In others, however, there is a complete failure to conduct a risk assessment at all, reflecting an outdated and troubling approach towards the use of handcuffs against prisoners by those in positions of authority.

As a result of these failures, time and again cases arise where severely frail, disabled and unwell prisoners are handcuffed to their hospital beds and/or escorting prison officers. It is a clear yet unfortunately recurring demonstration of the prison service's inability to appropriately balance its duty to protect the public whilst also treating prisoners with humanity.

Only a few months ago, a Prisons and Probation Ombudsman (PPO) investigation into the death of Timothy Slater, a double lower limb amputee and wheelchair user, found that the decision of HMP Hewell prison staff to handcuff him whilst hospitalised in the 12 days leading up to his death was unjustified.

The investigation found that Mr Slater's physical health and mobility was not taken into account when deciding whether or not to use restraints, despite this being a requirement of the risk assessment process.

Beyond the distressing impact on the individuals subject to restraint such as Mr Slater, frequently overlooked in these circumstances is the impact that witnessing such treatment can have on those present at the time.

Family members visiting relatives in hospital have the added distress of seeing their loved ones chained to their hospital bed and prison escorts, even in the days leading up to their death, when it is clear that they pose no risk to themselves or others.

Further, the experience for the prison officers themselves being in such close proximity to the patient can be incredibly traumatising. Indeed, the PPO's latest annual report drew attention to how the inhuman and degrading practice is distressing for prison staff, who in extreme cases, are "chained to a dying prisoner".

The prison team at Leigh Day has acted for a number of current and former prisoners who were subject to the disproportionate use of handcuffs in the course of being admitted to hospital and receiving medical treatment. Claims such as these have succeeded in obtaining recognition of the inhuman and degrading impact that disproportionate use of handcuffs can have on vulnerable and low-risk prisoners.

However the resurgence of calls for more robust policy guidance in this area clearly shows that the prison service has failed to fully recognise the harmful impact of their poor practices on these individuals.