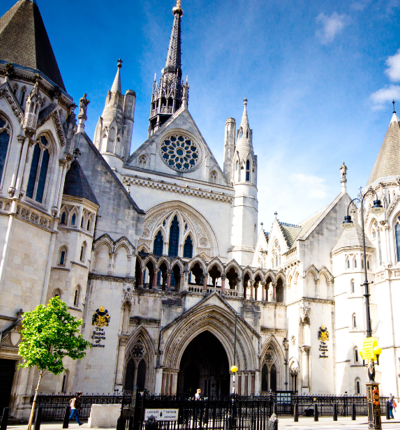 Open Justice and Covid-19 in civil cases
Oliver Holland and Walker Syachalinga discuss the challenges to the principle of open justice posed by Covid-19 restrictions on public access to civil court hearings in England and Wales.
In England and Wales, the Ministry of Justice (MoJ) responded to the government's lockdown measures by keeping open 159 priority court and tribunal buildings for essential face-to-face hearings.
 
Some 116 courts have remained closed to the public and been staffed only for video and telephone hearings while 76 courts have been temporarily closed with no hearings of any kind taking place.
 
By the end of April, 90 per cent of all hearings conducted utilised audio and video equipment. The issue arising from restrictions to public access to court hearings is whether they are consistent with open justice.
 
The MoJ views its restrictions as consistent with open justice because:
 
Access to open hearings is maintained if/where a public gallery is available, or a third party may join the hearing remotely
Any party or interested person is able to request a transcript or notes of a hearing
An audio recording of a hearing can be made available to be listened to in a court building
Court and tribunal lists as well as outcomes of High Court and Court of Appeal hearings, orders or results can be published
Accredited media has access to hearings and listing information.
 
New provisions on access to public hearings
 
Section 55 and Sch 25 of the Coronavirus Act 2020 inserts a new s 85A into the Courts Act 2003 providing for the courts to enable the public to see and hear proceedings remotely.
 
These provisions are supplemented by the Protocol Regarding Remote Hearings which provides that remote hearings should, so far as possible, still be public hearings.
 
Further, regs 6(2)(h) and 7(d) (iv) of the Health Protection (Coronavirus, Restrictions) (England) Regulations 2020 make exception for individuals to travel to fulfil a legal obligation, including attending court or satisfying bail conditions, or to participate in legal proceedings.
 
A new Practice Direction 51Y provides that "(2). … where the court directs that proceedings are to be conducted wholly as video or audio proceedings and it is not practicable for the hearing to be broadcast in a court building, the court may direct that the hearing must take place in private where it is necessary to do so to secure the proper administration of justice."
 
By para (3), where a media representative is able to access proceedings remotely while they are taking place, such proceedings shall be public proceedings. Paragraph (4) provides that "any hearing held in private under paragraph (2) must be recorded, where that is practicable, in a manner directed by the court … on the application of any person, any recording so made is to be accessed in a court building, with the consent of the court."
 
Practical application
 
Greystoke v The Financial Conduct Authority [2020] EWHC 1011 (QB), considered whether a litigant's application for a private hearing in order to safeguard confidential information under CPR 39.2(3)(c) and (g) could waive the public's right to open justice during a remote public hearing held pursuant to PD51Y para (3).
 
The judge allowed the part of the hearing dealing with confidential information to be held in private with the rest of the hearing kept public. While identifying the public interest in upholding the legal obligation to maintain confidential information as decisive, the judge noted that "it should only be necessary for a small part of the trial to take place in private."
 
In  Jankowski v Regional Court of Torun, Poland [2020] EWHC 826 (Admin), an extradition appeal heard by telephone and recorded on the court recording system, Mr Justice Fordham illustrated how para (4) works in practice -- "on the application of any person, the recording so made will be able to be accessed in a court building, with the consent of the court."
 
By analogy with the provisions of PD51Y, he added that there had not been "any derogation from the open justice principle, nor from the need to conduct an oral hearing in open court, nor from the rights of the parties. If and insofar as there has been any derogation, I am satisfied that it was necessary, justified and proportionate in securing the proper administration of justice."
 
The Labour Party has demanded that with certain exceptions, online streaming of all court cases should become the norm during and after the Covid-19 crisis.
 
The current protocol permits livestreaming of remote hearings in addition or as an alternative to broadcasting audio or video hearings in a court building or attendance of remote hearings by members of the press.
 
By contrast, livestreaming all cases would enable the public to gain instant access to remote hearings from anywhere without having to attend a court building to watch a broadcast or applying for the court's consent to watch a recording of a remote hearing in a court building.
 
Clearly authorities in England and Wales are reconciling restrictions to public access to civil court hearings and the principle of open justice:
The restrictions are temporary and under constant review
Exceptions are available for accredited media and members of the public to travel to fulfil a legal obligation, attend court or participate in legal proceedings
In the absence of physical access to a public court hearing, remote video and telephone hearings are open to the public
Members of the public may view a broadcast of a hearing in a court building or apply to the court to make public a recording of a private hearing
The right to open justice is not absolute, the courts will derogate where there is a decisive public interest in upholding other rights such as private confidential information.