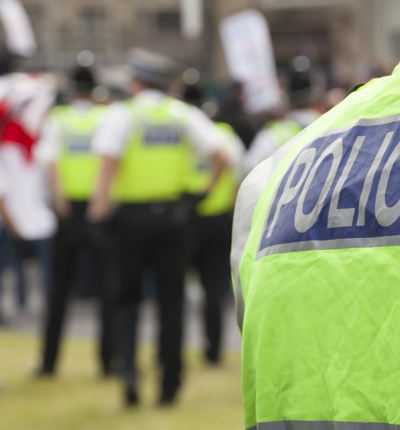 Legal rights and coronavirus: Police powers and your human rights
As the coronavirus pandemic continues to impact us all we aim to provide some useful discussions on legal matters during these uncertain times. Leigh Day human rights solicitor Yvonne Kestler and barrister Sam Fowles who specialises in public law at Cornerstone Barristers discuss the rights of individuals in relation to the lockdown.
The UK is in lockdown. The Government has advised people to remain in their homes and Parliament has passed extraordinary legislation giving the police powers to enforce the lockdown.
 
The Prime Minister spoke of the Police using "persuasion" over "manpower" and the Police guidance is that they should 'engage, explain and encourage'. However, force can be used for individuals who have not responded to this approach.
 
It is right that police take the necessary measures to protect the public from coronavirus. This does not, however, justify the police acting outside the law. Nor does it mean that individuals are not entitled to protect their fundamental rights.
 
Most concerning from a human rights perspective is the lack of clarity in the regulations and advice. Both are broad and the language used is vague. This leaves them open to misinterpretation, mistake, and abuse. It is, therefore, vital for individuals to know, and protect, our fundamental rights.
 
Of particular danger is the confusion between government advice and the law of the land. Government guidance is generally for a more extensive lockdown than the law provides. The government guidance advises, for example, that we should only leave our houses to take exercise "once per day". While it is undoubtedly right that individuals should follow the government guidance, the law is slightly different. The legal requirement is that individuals should not leave our homes "without reasonable excuse". "To take exercise" is recognised as a reasonable excuse but there is no legal requirement that it only be once per day. While we recommend following the government guidance, it is important (especially when considering fundamental rights) to acknowledge the difference between guidance and law.
 
What, then, are the police's legal powers, and what are the limits on those powers? Broadly speaking, they fall into four classes:
 
First, the police have the power to enforce the lockdown by fining people who are outside their homes without "reasonable excuse". Regulation 6 of the Health Protection (Coronavirus, Restrictions) Regulations 2020 provides a list of things that may be considered a "reasonable excuse". This includes work, food shopping, health, and "to take exercise", but this list is not exhaustive. This means that police and, where necessary, magistrates, must consider, on the facts, whether a specific excuse is "reasonable". The government's guidance can provide a helpful steer, but it is not definitive. Decision-makers must also consider the purpose of the regulations and all other material considerations on the facts of the case. A failure to do this will almost certainly render the decision unlawful.
 
Second, the police may disperse gatherings of more than two people (other than members of a household) and compel individuals who are outside their homes without "reasonable excuse" to return to their home. In the case of gatherings, police are entitled to take "such action as is necessary" to enforce the prohibition on gatherings of more than two people. But the power is not without limit. The gathering must not be one of those permitted by the regulations and the action taken must be "necessary" to enforce the regulations. Excessive actions will not be lawful.
 
Where police believe that a person is outside without a reasonable excuse, they may either direct that person to return to their home or else use "reasonable force" to remove them to their home. Force may only be used, however, where it is necessary. Excessive or unnecessary force will be unlawful. 
 
Third, police are empowered to take "such action as is necessary" to enforce the prohibition on non-essential businesses from operating during the lockdown. Where they believe it is necessary to prevent the business or premises from continuing to operate, police may serve a prohibition notice. This can have the effect of compelling the business or premises to close.
 
Fourth, police have the power to remove individuals suspected of carrying coronavirus to a designated place and to compel them to remain there. This power has more substantial limitations than the others because it must be exercised in a manner that is both "necessary" and "proportionate".
 
It is clear then, that police powers are substantial but also subject to important limitations. Where police step beyond these limitations, their actions will be subject to challenge. While the precise nature of the challenge will turn on the facts of the case, claims may include false imprisonment, assault, and actions based on the rights to protection from inhuman or degrading treatment, liberty and security, and private and family life.
 
Facing the coronavirus demands a collective national effort, it is important that, as individuals, we try our best to follow the guidance. However, the police must work within the limits of the powers provided to them to ensure our fundamental rights are upheld during this difficult and challenging time.
 
 
Yvonne Kestler is a solicitor in the Leigh Day Human Rights Department.
 
Sam Fowles is a Barrister at Cornerstone Barristers specialising in public law.