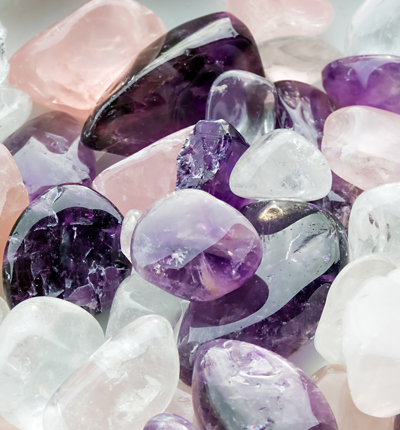 "Healing crystals" with a trail of exploitation and violence
Rebecca Swan discusses the ethics of buying into the craze for healing crystals that could have been mined by children or be helping to finance war and terror.
Posted on 04 December 2020
Only a few years ago one might have been forgiven for questioning what a "healing crystal" was. They were mostly the preserve of new age alternative medicine and had not yet become the latest celebrity fad. Over the last decade, however, their popularity has soared as part of the global health and wellness industry.
"Wellness" is no longer simply about diet and exercise: it now extends to spirituality, alternative medicine, meditation, relationships, and travel. The monetisation of "wellness" has been swift, with the industry
valued at $4.5 trillion globally last year
. As a result, so-called healing crystals are no longer niche products - they have entered the mainstream market and carved out a multi-billion dollar slice of the wellness pie.
The basic idea behind healing crystals is that they possess inherent spiritual properties that connect the user to the earth and promote wellness. These semi-precious stones are said to spiritually cleanse the user. For example, quartz is said to protect against negativity, while amethyst is said to enhance the immune system.
Critics have been quick to point out that such claims are unsupported by science. Gwyneth Paltrow, for example,
made headlines in 2017
when her company Goop claimed that their jade and rose quartz "yoni eggs" would "balance hormones, regulate menstrual cycles, prevent uterine prolapse, and increase bladder control". Following legal action, Goop ultimately agreed to pay a $145,000 fine for making unsubstantiated marketing claims; small change for a business worth a reported $250 million. The company continues to market the "eggs" in more equivocal language,
despite warnings from gynaecologists
that they are likely to be harming the women who use them.
Yet whilst the efficacy of healing crystals is something that has been widely debated and researched, the circumstances in which these stones are pulled from the earth is a less-discussed topic. In fact, if consumers questioned the provenance of their crystals, they would quickly find cause for concern. In some circumstances, what their healing crystal may be connecting them to are allegations of environmental and human rights abuse. Indeed, some stones have been linked to such egregious human rights abuses that
activists have questioned
whether these healing crystals are "the new blood diamonds".
Such allegations do not apply to all stones, but the problem is that it is often difficult to identify which ones are a cause for concern. Identifying the source of a particular crystal is a challenge as many traders closely guard the provenance of their stones as trade secrets, whilst others admit they simply do not know where they have come from.
Crystals are usually acquired through middle men who import and market stones from all around the world. Crystals sold in the UK might be mined only a few miles away or have been imported from as far as Madagascar or Myanmar. Some come from large industrial mines (where they are often found as the by-product of more valuable commodities such as gold or copper), whilst others may have been mined in an artisanal manner by a single family. Similarly, whilst some mines operate according to their own strict environmental and health and safety policies, others are owned by multinationals with poor environmental credentials.
Despite the challenges of tracing individual stones, in recent years NGOs and investigative journalists have attempted to follow certain supply chains back to their source.
Last year it was reported
that in the small Madagascan village of Anjoma Ramartina, where there are large deposits of rose quartz, between two and four men per year are buried alive by landslides in the crystal pits. Children were digging tunnels below tonnes of soil and rock with basic tools and no protective equipment. The stones that these children find are sold for only a few pennies each. Once they reach the end of the supply chain their price may increase to anything from a few pounds to several hundred, depending on their size.
For some semi-precious stones, it is not necessary to trace back through the supply chain to know there is a high chance that they were mined in poor conditions. Tourmaline, for example, is often found as a by-product in cobalt mines and many online sellers list the source of their tourmaline as the Democratic Republic of Congo (DRC), where 60 per cent of the world's cobalt is found.
UNICEF estimates that around 40,000 children are employed in these cobalt mines, with reports that some are as young as seven years old. Children work twelve-hour days digging for the cobalt that powers our mobile phones, and in doing so they also mine by-products such as tourmaline, amethyst and smoky quartz, which can be sold off to crystal dealers for added profit. The International Labour Organisation estimates that globally there are
more than one million children participating in artisanal and small-scale mining
.
It is also the case that wherever valuable minerals are found, violence is quick to follow. NGO Global Witness found that jade extraction in Myanmar, reported to be worth up to $30 billion a year, has helped finance both sides of an ethnic war that has left over 100,000 displaced since 2011.
Those mining the jade live a precarious existence. There is little accountability for those running the mines:
in July this year nearly 200 workers were killed and 54 injured
in a "tsunami" landslide at a jade mine in Kachin state.
Commentators, such as Global Witness, point to the lack of regulation and oversight
of the mine operators, while families of the victims are still awaiting a formal finding of responsibility for the disaster. Again, Myanmar's situation is sadly not unique; Global Witness also found that in 2016 Afghanistan's lapis lazuli mines were earning up to $20 million a year for the Taliban.
So what can be done about the circumstances in which crystals are mined? Perhaps the most worrying issue for consumers is the lack of legislation in this area; it has simply failed to keep up with the growth of the market. At present there is no requirement for sellers to provide information on the origins of their crystals, and even publicly traded mining companies are not compelled to disclose the specifics of the by-products they have mined.
The first step would be for governments to legislate transparency into supply chains. Yet as we have seen in the case of blood diamonds, legislation to promote transparency alone is not a fail-safe way to ensure that minerals are mined ethically.
The advent of blockchain technology makes bold promises regarding the traceability of commodities: a
pilot scheme is reportedly being developed
to track cobalt production in the DRC all the way from artisanal mines through to the hands of consumers. Time will tell if the scheme delivers, but a further hurdle will be whether, given its high cost, this technology can be used for semi-precious as well as valuable minerals.
In the meantime, we are increasingly seeing private litigation used to hold mining companies and exporters within the supply chain to account. A claim is currently progressing in the US on behalf of Congolese child labourers against tech giants including Apple, Google, Dell, Microsoft and Tesla. The success of such litigation will no doubt play an important part in changing the opaque nature of mining supply chains and the laissez-faire attitude of those who reap the profits of human rights abuses overseas. Until then, consumers should think twice about the "wellness" that their healing crystals will provide.