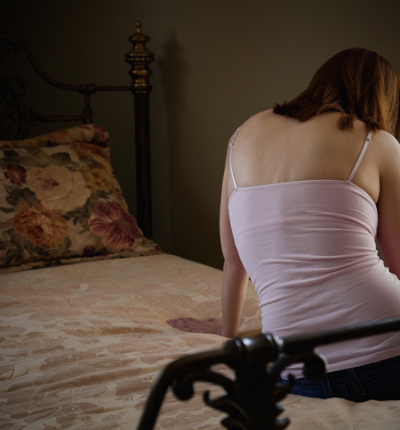 It should not pay to turn a blind eye
Liana Wood questions how such wide-spread exploitation could be carried out in plain sight following the largest ever modern slavery ring was uncovered in the UK
Wersja polska poniżej

'Any lingering complacency after the 2007 bicentenary celebrations of the abolition of the English Slave Trade was misplaced' said the Judge hearing the trial of traffickers in what has been described as the 'largest ever modern slavery ring uncovered in the UK'.  
 
Following two trials which concluded in February and June this year, 8 members of the criminal gang were sentenced collectively to more than 55 years in prison.  The 400 plus victims were trafficked from Poland to the UK to work for a pittance and live in squalid conditions; many had been vulnerable for one reason or another – perhaps homeless or unemployed – and found themselves in the UK exposed to even greater vulnerability to exploitation. 
 
In Poland, they had been approached and promised work at a recycling plant for a decent wage and accommodation, but instead, were transported to houses often with no heating, running water or cooking facilities. Many of them lived up to four people to a room on dirty mattresses and had to access food banks and soup kitchens for food.   
 
Work was found for them by the criminal gang through employment agencies at recycling plants, poultry factories, farms and a fencing company.  Incredibly, one of the traffickers worked for an agency and used her position to sign up dozens of victims for work.  Bank accounts were opened in their names but controlled by the traffickers.  They were paid unpredictable sums of money; some reported being paid as little as 50p a day and others £20 a week.  They were driven from where they slept to where they worked.  They were followed, threatened, abused.
 
DCI Nick Dale, Senior Investigating Officer, said that victims were subjected to a 'demi-life of misery and poverty' and treated as 'commodities' purely for the greed of the traffickers. 
 
It took the extraordinary work of a charity, Hope for Justice, to begin the dismantling of the web of exploitation; through outreach work and support, individuals started to come forward one after another to report the mistreatment.  An extensive police investigation followed, which was described by the Judge as 'meticulous', and eventually convictions secured.
 
There will be no qualms about labelling the actions of the trafficking gang as abhorrent.  And, hopefully, their convictions will bring some comfort to the victims. 
 
But now is also the time to take stock and question:  how this could happen in plain sight - in banks, employment agencies and places of work?  It is clear that for years these traffickers exploited and profited with impunity.  The boldness with which they constructed an audacious web of exploitation suggests that they did not believe there were mechanisms in place to stop them. 
 
And we should make no mistake, while the scale of the exploitation may be unusual, trafficking of individuals for labour exploitation is widespread. 
 
The focus up to now has rightly been on the criminal trial but investigations should not end there.  Companies should not be able to profit from trafficking and modern slavery.  It should not pay to turn a blind eye; accountability goes beyond the criminal gang.  So far, the victims of these crimes may have some comfort in the form of the convictions of the perpetrators, but they have still not received the wages for the work they did or compensation for the hardships they endured.
 
Liana Wood at Leigh Day acts for some of the individuals who were victims of this exploitation.  If you would like to speak confidentially to us about these issues, please phone +44 (0) 20 7650 1160, or fill in our enquiry form and we will get back to you. 
 
---
Przymykanie oczu nikomu nie powinno się opłacać
 
Prawniczka Liana Wood, która pomaga ofiarom procederu okrzykniętego "największą w historii współczesnej siecią niewolnictwa wykrytą w Wielkiej Brytanii", zastanawia się nad tym, jak to możliwe, że przestępcy zdołali prowadzić tak szeroko zakrojoną działalność polegającą na wyzyskiwaniu innych ludzi, a także nad tym, co trzeba zrobić, aby zapewnić sprawiedliwość ofiarom.

 "Jakiekolwiek samozadowolenie odczuwane po tym, jak w 2007 roku świętowaliśmy dwóchsetlecie zniesienia handlu niewolnikami w Anglii, było błędem", powiedziała sędzia, która prowadziła sprawę nazwaną "największym przypadkiem współczesnego niewolnictwa wykrytym w Wielkiej Brytanii".

Po dwóch procesach, które odbyły się w lutym i czerwcu tego roku, ośmioro członków gangu zostało skazanych na łącznie ponad 55 lat więzienia. Przemycili oni ponad 400 ofiar z Polski do Wielkiej Brytanii, zmuszając je do życia w podłych warunkach i do pracy za nędzne wynagrodzenie. Ich celem były przede wszystkim osoby, które znajdowały się w trudnej sytuacji życiowej — na przykład bezdomne lub bezrobotne. Po przyjeździe do Wielkiej Brytanii sytuacja tych osób stała się jeszcze bardziej tragiczna.

Ofiary były rekrutowane w Polsce, gdzie obiecywano im pracę w zakładzie recyklingu w zamian za przyzwoite wynagrodzenie i zakwaterowanie. Zamiast tego transportowano je do domów, w których często nie było ogrzewania, bieżącej wody ani urządzeń kuchennych. Wiele ofiar dzieliło pokój z aż trzema osobami i spało na brudnych materacach. Aby się wyżywić, musiały korzystać z pomocy banków żywności i jadłodajni dla ubogich.

Gang przestępców znajdował im pracę za pośrednictwem agencji pracy — w zakładach recyklingu, na fermach drobiu, w gospodarstwach rolniczych i w firmie produkującej ogrodzenia. Zadziwiające jest to, że do gangu należała kobieta zatrudniona w agencji pracy, która wykorzystywała swoją pozycję i zmuszała dziesiątki ofiar do niewolniczej pracy. Przemytnicy otwierali konta bankowe na nazwiska ofiar, a potem kontrolowali przepływ pieniędzy na tych kontach. Płacili niewiarygodnie niskie stawki za wykonywaną pracę — niektórzy otrzymywali zaledwie 50 pensów dziennie, a inni 20 funtów tygodniowo. Ofiary były transportowane z miejsca, w którym spały, bezpośrednio do miejsca pracy. Śledzono je, grożono im i znęcano się nad nimi.

Nadinspektor Nick Dale, starszy oficer dochodzeniowy powiedział, że ofiary były zmuszane do " życia w urągających warunkach" i były traktowane jak "towary" przez chciwych przemytników.

Dzięki ogromnej pracy organizacji charytatywnej Hope For Justice proceder ten został ujawniony. Gdy nawiązano kontakt z ofiarami i zaoferowano im wsparcie, kolejno zaczęły składać zeznania na temat tego, w jakich szokujących warunkach żyją i pracują. Zaraz potem przeprowadzono szeroko zakrojone policyjne śledztwo, które sędzia opisała później jako "niezwykle drobiazgowe". Jego ostatecznym efektem są wyroki skazujące dla przestępców.

Nie ulega wątpliwości, że działalność gangu przemytników była czymś odrażającym. Miejmy nadzieję, że wyroki skazujące przyniosą ofiarom przynajmniej częściową ulgę.

W tym miejscu jednak należy zastanowić się nad tym, co się wydarzyło i zadać sobie pytanie: jak to możliwe, że działo się to na naszych oczach — w bankach, w agencjach zatrudnienia i w zakładach pracy? Wiadomo, że przemytnicy bezkarnie wykorzystywali swoje ofiary przez całe lata. Śmiałość, z jaką zbudowali tę przerażającą sieć wyzysku świadczy o tym, że nie wierzyli oni w istnienie żadnych mechanizmów, które byłyby w stanie ich powstrzymać.

Ale nie dajmy się zwieść; chociaż w tym przypadku skala wyzysku była niezwykła, przemycanie ludzi i zmuszanie ich do pracy jest powszechnym zjawiskiem.

Na razie – co jest zrozumiałe – głównym przedmiotem zainteresowania był proces przestępców, ale śledztwa nie powinny się zakończyć w momencie ogłoszenia wyroku. Nie wolno pozwalać, aby firmy zarabiały na przemycaniu ludzi i na współczesnym niewolnictwie. Przymykanie oczu nikomu nie powinno się opłacać, a odpowiedzialność za tego typu procedery wykracza poza gang przestępców. Być może ofiary znalazły pewne ukojenie w wysokości i rodzaju kar, jakie wymierzono ich prześladowcom, ale wciąż nie otrzymały one wynagrodzenia za wykonaną pracę ani odszkodowania za doznaną krzywdę.

Liana Wood z Leigh Day działa na rzecz kilku ofiar tego nielegalnego wyzysku. Jeżeli chcesz porozmawiać z nami w zaufaniu o tej sprawie, prosimy o kontakt pod numer +44 (0) 20 7650 1160 albo o wypełnienie formularza, dzięki któremu będziemy mogli się z Tobą skontaktować.

Liana jest specjalistką od prawa pracy i współpracuje z partnerem Chrisem Bensonem. Zajmuje się wieloma sprawami związanymi z dyskryminacją i zatrudnieniem oraz wielostronnymi sprawami o równość wynagrodzenia w sądach cywilnych i w sądach pracy.