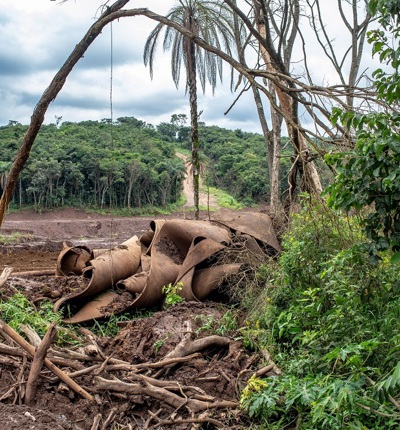 Iron ore mining in Brazil: a damning tale
Jonny Buckley discusses the recent mining dam collapses in Brazil and the lessons that must be learnt by the mining industry
Posted on 25 February 2019
On 25 January, near Brumadinho in Brazil, Dam 1 at the Córrego de Feijão mine owned by Brazilian iron ore giant Vale S.A. collapsed, causing a toxic mudslide that has killed over 165 people, and left 147 more people still missing. Many of the deceased were Vale workers dining in the company's cafeteria at the time of the collapse. The cafeteria was swept away in the mudslide and destroyed, along with many other buildings, houses and hotels. The Rio Paraopeba has been polluted – but the full extent of the environmental damage is not yet known and there are fears that the waste may enter the much larger Rio São Fransisco opening up the possibility of environmental damage across the five Brazilian states through which it runs. 
 
The Brumadinho tragedy comes only three years after the November 2015 collapse of the Fundão dam in Mariana, 120km from Brumadinho. The collapse of that dam, operated by Samarco, a joint venture between Vale and BHP Billiton, unleashed 60 million cubic metres of toxic iron ore waste, killing 19 people, flattening the town of Bento Rodrigues and polluting the length of the Rio Doce river from Mariana in Minas Gerais to the Atlantic coast in Espirito Santo 600km away.
 
Warning signs that went unheeded
What makes these two disasters all the more tragic is that the companies were aware of the risk of these dams collapsing.  The Guardian reported last year that internal Samarco documents show that six months prior to the collapse, the company carried out a worst-case assessment of the dam and predicted significant impact to the environment and up to $3.4bn damage in the event of a collapse. 
 
An internal Vale document from October 2018 obtained by Reuters reportedly shows that the Córrego de Feijão dam was two times more likely to fail than the maximum risk level allowed under internal Vale guidelines. The dam was nevertheless certified as stable in September 2018 by German company Tüv Süd. At the time of writing, eight employees or executives from Vale and four from Tüv Süd have been arrested in connection with the dam collapse. Vale has lost a quarter of its market value since 25 January; that is, nearly $19bn.
 
Upstream dams are most likely to fail
What makes these tailings dams so problematic? Tailings dams are used to contain the thick muddy residue that is a byproduct of ore mining. In the case of Córrego de Feijão, Dam 1 was just one in a series of dams constructed upstream of the original dyke to hold ever increasing waste product from the mining operations, which rendered it more likely to fail. 
 
In earthquake-prone Chile and Peru, upstream tailings dams have been banned.  The walls of upstream tailings dams are generally constructed from mining slurry piled into embankments, rather than using a separate surface retaining structure to impound the tailings as is seen in conventional dams. This form of dam is especially vulnerable to a process called 'liquefaction', whereby the more solid waste material forming the embankments suddenly loses strength (often due to partial saturation by the liquid materials it is intended to contain). Collapses by liquefaction are sudden and catastrophic: the embankment disappears, releasing a surge of liquid waste downhill devastating everything in its path. Liquefaction was found to have caused the Samarco disaster and is believed to be the most likely cause of the collapse at Brumadinho. 
 
Brazil is particularly at risk
The New York Times has reported Brazilian government figures showing that there are 88 upstream mining dams in Brazil built in the same way as the dam in Brumadinho, and all but four of the dams have been rated by the government with the same or worse safety rating as the Brumadinho dam.
 
What gives greater cause for concern is that at least 28 of these upstream dams are situated directly uphill from cities or towns, meaning that over 100,000 people are living in areas where a dam has a high risk of failing. 
 
The state of Minas Gerais produces over half Brazil's mining output, and, as such, the mining industry holds significant political sway. Mining companies are allowed to self-regulate – they hire inspectors to conduct safety checks based on reports provided by the companies themselves. In December 2018, the State Council on Mining Regulations held an extraordinary meeting to approve Vale's proposal to expand operations at Córrego de Feijão. None of this bodes well for those living near unsafe tailings dams. 
 
Preventing another tragedy
According to World Mine Tailings Failures, a database of accidents caused by mine tailings structures, between 2008 and 2017 there were 13 "very serious failures" around the world. Absent any significant change in industry practice or laws and regulations, another 19 very serious failures are predicted to occur between 2018 and 2027.
 
The 2018 Responsible Mining Index published by the Dutch-based Responsible Mining Foundation (RMF) found that over half of the 30 mining companies assessed were not adequately able to track how they were assessing and addressing the risks of dam failure and seepage. Moreover, none of these companies were publicly disclosing the measures that they had taken to address risks relating to tailings dams.
 
It is clear that the next tragedy is around the corner if mining companies do not adequately address these risks and rapidly change their practices. In Brazil, the need for companies and government to work together to prevent the next disaster is imperative.
 
After Samarco, Vale announced plans to decommission its 19 upstream dams. By the time of the Brumadinho disaster, 9 had been decommissioned, but the Córrego de Feijão dam had been inactive since 2016 pending authorization from the relevant authorities. Since Brumadinho, Vale has stated that it will accelerate the decommissioning process for the remaining 10 upstream dams. 
 
It may not be enough. Two weeks after the collapse in Brumadinho, residents in two mining cities were ordered to evacuate their homes at dawn. In Barão de Cocais, 500 people living near the Upper South dam of the Gongo Soco mine, which also belongs to Vale, were ordered to leave their homes. In Itatiaiuçu, 200 residents also received evacuation orders because of the risk to the Serra Azul mine dam, which belongs to the steelmaker ArcelorMittal. Like the Córrego de Feijão dam, the Serra Azul tailings dam is upstream and has been inactive since October 2012. 
 
Both companies have said the evacuations were preventive measures, after consultants refused to attest to the stability of the dams. Such is the unfortunate new reality in Brazil for the residents of villages lying downstream from tailings dams, who live in constant fear of the next collapse. 
 
---
A extração do minério de ferro no Brasil: uma história amaldiçoada
Jonny Buckley analisa as recentes tragédias de rompimento de barragens de mineração no Brasil, e aponta as lições que devem ser aprendidas pela indústria minerária a fim de prevenir futuras tragédias.

No dia 25 de janeiro de 2019, nos arredores de Brumadinho, no Brasil, a Barragem 1 do Córrego do Feijão – da qual é proprietária a gigante brasileira do minério de ferro Vale S. A. – rompeu-se, causando um deslizamento de rejeitos tóxicos que matou mais de 165 pessoas e deixou 147 desaparecidas. Muitas vítimas eram trabalhadoras da Vale e almoçavam no refeitório da empresa no momento do rompimento da barragem. O refeitório, além de outras edificações, casas e hotéis, foram arrasados pelo deslizamento da lama tóxica. O Rio Paraopeba também foi poluído e, embora a extensão dos danos ambientais ainda não seja conhecida, teme-se que os rejeitos alcancem o ainda maior Rio São Francisco, criando a possibilidade de os danos ambientais alcançarem os cinco estados brasileiros nos quais o rio corre.

A tragédia de Brumadinho ocorreu apenas três anos depois do colapso da barragem do Fundão, em Mariana, em novembro de 2015, localizada a apenas 120km de Brumadinho. O rompimento da barragem de Mariana, operada pela Samarco em uma joint venture com a Vale S. A. e a BHP Billiton, liberou mais de 60 milhões de metros cúbicos de rejeitos de minério de ferro, matando 19 pessoas, inundando a cidade de Bento Rodrigues e poluindo toda extensão do Rio Doce, desde Mariana, no estado de Minas Gerais, à costa atlântica do estado vizinho, Espírito Santo, percorrendo uma distância de 600km.

Sinais de alerta ignorados
O que faz ambos os desastres ainda mais trágicos é o fato de que as empresas estavam cientes do risco de as barragens cederem. O jornal inglês The Guardian publicou uma reportagem no ano passado alegando que documentos internos da Samarco mostram que, seis meses antes do rompimento, a empresa havia executado uma avaliação do "pior cenário" da barragem (worst-case assessment), e o resultado previu um impacto significativo ao meio ambiente, com danos estimados em US$3.4 bilhões de dólares em caso de rompimento.

Um documento interno da Vale, de outubro de 2018, obtido pela Reuters, mostra, alegadamente, que a barragem do Córrego do Feijão tinha o dobro de chances de ceder do que o nível máximo de risco permitido pelas diretrizes internas da Vale. Mesmo assim, a empresa alemã Tüv Süd certificou, em setembro de 2018, a barragem como estável. No momento da escrita deste texto, oito empregados ou executivos da Vale, e quatro da Tüv Süd, já foram presos por conta do rompimento da barragem, e a Vale perdeu um quarto de seu valor de mercado desde 25 de janeiro – a saber, quase US$19 bilhões de dólares.
 
Barragens a montante têm maiores riscos de rompimento
O que faz essas barragens de rejeitos tão problemáticas? Elas são utilizadas para conter o resíduo lamacento e denso, que é o subproduto gerado pela extração de minério de ferro. No caso do Córrego do Feijão, a Barragem 1 era apenas uma de uma série de outras barragens construídas a montante do dique original, com o propósito de conter os rejeitos, cada vez maiores, gerados pelas operações de mineração, que aumentou os riscos de rompimento.

No Chile e no Peru, países propensos a terremotos, barragens de rejeitos rio acima foram banidas. Os muros de contenção das barragens de rejeitos a montante são, geralmente, construídos a partir do lodo de minério, acumulado para formar um aterro, em vez de utilizar-se uma estrutura separada de retenção da superfície para conter os rejeitos, como é visto em barragens convencionais. Esse tipo de barragem é particularmente vulnerável ao processo de liquefação, no qual as partes mais sólidas do material de rejeitos, que formam o aterro, perdem sustentação de forma abrupta (geralmente em razão da saturação parcial gerada pelos materiais líquidos que deveria reter). Rompimentos catalisados por liquefação são repentinos e catastróficos: o aterro desaparece, descarregando uma onda de rejeitos líquidos a jusante, que devasta tudo aquilo que encontrar em seu caminho. Concluiu-se que o processo de liquefação foi responsável pelo desastre na barragem da Samarco, e também se acredita que esta seja a razão mais provável para o rompimento daquela em Brumadinho.

Brasil em risco majorado
O jornal The New York Times reportou dados do governo brasileiro que evidenciam a existência de 88 barragens de minério a montante no Brasil, construídas nos mesmos moldes da barragem de Brumadinho. Dessas 88, apenas quatro foram classificadas pelo governo como contendo risco semelhante ou superior à barragem de Brumadinho.

Soma-se à preocupação o fato de que pelo menos 28 barragens a montante estão localizadas diretamente acima de cidades ou municípios, o que significa que mais de 100 mil pessoas residem em áreas onde há alto risco de rompimento.

O estado de Minas Gerais é responsável por mais da metade da produção da mineração brasileira e, consequentemente, a indústria detém significante influência política. Empresas minerárias podem se autorregular, ou seja, contratam inspetores para conduzir checagens de segurança baseados em relatórios fornecidos por elas próprias. Em dezembro de 2018, o Conselho Estadual de Regulamentação Minerária realizou uma reunião extraordinária para aprovar a proposta da Vale de expandir suas operações no Córrego do Feijão.

Nenhum desses sinais é positivo para populações residentes em locais próximos às barragens de risco.

Prevenindo outra tragédia
Segundo o World Mine Tailings Failures, base de dados que comporta informações acerca de acidentes causados por minas de rejeitos, entre 2008 e 2017 houve 13 "rupturas bastante sérias" ao redor do mundo. Sem contar com mudanças significativas na prática da indústria, ou em leis ou regulações, outros 19 casos graves de ruptura são previstos para ocorrer entre 2018 e 2027.

O "Indicador de Mineração Responsável para 2018" (2018 Responsible Mining Index), publicado pela fundação Holandesa Responsible Mining Foundation (RMF), concluiu que mais da metade das 30 empresas minerárias avaliadas não estão adequadamente aptas a avaliar suas operações e endereçar os riscos relacionados ao rompimento de barragens ou infiltrações. Ainda, nenhuma dessas empresas divulgou publicamente as medidas tomadas para solucionar riscos relacionados às barragens de rejeitos.

Não há dúvida de que a próxima tragédia se aproxima, caso empresas de mineração não tomem as medidas adequadas para diminuir os riscos e mudar, rapidamente, suas práticas. É imperativo que empresas e governo trabalhem juntos a fim de prevenir futuros desastres no Brasil.

Após a tragédia na barragem pertencente à Samarco, a Vale havia anunciado planos de suspender as atividades de suas 19 barragens a montante. Na altura do desastre de Brumadinho, as atividades de 9 barragens já haviam sido encerradas, enquanto a do Córrego do Feijão estava inativa desde 2016, aguardando autorização das autoridades competentes para funcionar. Desde a tragédia de Brumadinho, a Vale declarou que irá acelerar o processo de encerramento das atividades das 10 barragens a montante remanescentes.

Todavia, as medidas podem não ser suficientes. Duas semanas após o rompimento de Brumadinho, moradores de outras duas cidades com atividades minerárias tiveram que deixar suas casas durante a noite. Em Barão dos Cocais, 500 pessoas morando próximo à Barragem Superior do Sul, na mina de Gongo Soco, que também pertence à Vale, foram evacuadas. Em Itatiaiuçu, 200 moradores receberam ordens de evacuação em razão dos riscos relacionados à barragem Serra Azul, da siderúrgica ArcelorMittal. Assim como a do Córrego do Feijão, a barragem de rejeitos Serra Azul também está localizada rio acima e está inativa desde 2012.

As duas empresas alegaram que as evacuações ocorreram em caráter preventivo, após consultores se recusarem a atestar a estabilidade das barragens. Esta é a nova triste realidade dos moradores de municípios ou comunidades localizadas a jusante de barragens de rejeitos no Brasil, os quais vivem em constante temor de uma nova ruptura.

Translated by Ana Rizelo