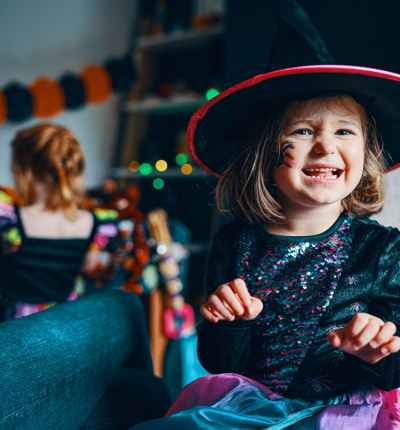 How to have a safe and happy Halloween
While the children are focused on the playful horrors of Halloween, the terrifying reality is that children's fancy dress costumes may neither be fit for purpose nor safe for wear.
Posted on 31 October 2019
 Halloween is here again. Once a year we conjure fancy dress ideas for adults and children alike, put on clown makeup, carve pumpkins, or simply watch the magic from a distance.
 
The real horror though can be the dangers that lurk behind the naked flames: flowing costumes worn by excited children, and cheaply made cosmetics and face paints.
 
In the last few years, flammability measures have been adopted by thousands of retailers after reported concerns over how quickly a child's Halloween costume can catch fire. The measures have been introduced as part of a voluntary code of practice for members of the British Retail Consortium. It aims to ensure costumes have a maximum burn rate 3 times slower than the current requirements.
 
Fancy dress costumes tested to this voluntary standard carry a label which states: "This garment has undergone additional safety testing for flammability."
 
RoSPA recommends that before any Halloween and fancy dress costumes are bought, they are checked to ensure that they carry a CE mark on the label.
 
In addition to this, face paints, temporary tattoos, glitter and novelty contact lenses which are used and marketed for adults and children pose a significant risk. We would advise consumers to always check the ingredients and instructions before use as these may not be suitable for all skin types, particularly with children who have more delicate skin or anyone with skin sensitivities. If an irritation or allergy does occur it is important to remove the product immediately and seek medical advice as individuals could suffer from long term consequences.
 
The Manchester Royal Eye Hospital has reported that last year they saw a 65 percent increase in people attending A&E with eye injuries. They reported 30 people were  treated in the week before Halloween and 50 in the seven days which followed due to irritation of the eye caused by novelty lenses and glitter debris. They have warned of the dangers of using these products and we echo these views.

We hope that awareness of this issue protects children from suffering avoidable harm.
 
Please share our spooky video below so that the people you care about can have a safe and fun Halloween.

 

 
Flammable Fancy Dress 
It has been well documented that many fancy dress costumes from high street, supermarket, and online retailers, are not all flame retardant. There are many videos on YouTube that you can watch to illustrate just how quickly fancy dress fun can turn to disaster.
 
Children should be supervised at all times, keep them away from naked flames – tea lights, sparklers, and candles. Long hair and clothes, especially fancy dress costumes, are very flammable. The safest option for your Halloween decorations and carved pumpkins are battery operated candles and flashing lights. Make sure you give those smoke alarms a test before Halloween night!
Creepy cosmetics 
As Halloween is only once a year, it is tempting to buy those cheap face paints one can find on third party websites such as eBay. Makeup formulation can cause serious allergic reactions, and how you apply your makeup really matters.

We have some safety tips below to help you and your loved ones stay safe:
Always read and follow the instructions for use
Always check the ingredient list
Always perform a patch test
If you do notice any adverse symptoms such as itching or burning during use of a product immediately remove it and seek medical advice.
Be wary of purchasing products via third party sellers particularly online
Try to familiarise yourself with cosmetic product labels
Generally it is advised to not share cosmetic products to prevent the spread of bacteria and contamination of your products
Jars and containers should be kept tightly closed after use to prevent contamination
Applicators/makeup brushes should be thoroughly cleaned or replaced on a regular basis to prevent the spread of bacteria
Have regular clear outs of cosmetic products and throw away any products that have a bad odour or display a change in colour  
Expect it's safe, Expect it's Fair is a campaign run by our product safety and consumer law solicitors at Leigh Day. Our team specialises in claims relating to faulty consumer products, including household fires and food safety, clinical trials, defective medical products and consumer rights.
 
For more Halloween fire safety advice, please go to www.london-fire.gov.uk/safety/the-home/candles/

Contact Leigh Day to discuss any serious burn injury or cosmetic injury claim. Call 0800 689 5052