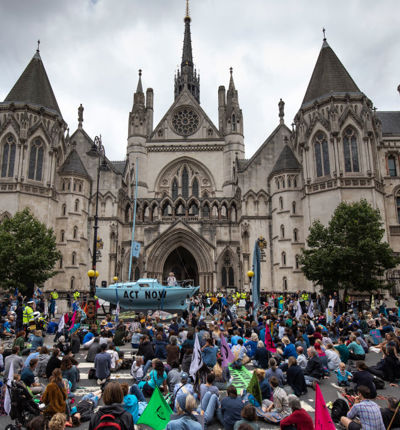 Are regulators watching Extinction Rebellion's 'Autumn Uprising'?
Gideon Habel of Leigh Day's regulatory and disciplinary team and Alice Ramsay of the firm's employment and discrimination department discuss the potential consequences for legal professionals in taking part in the ongoing protests by Extinction Rebellion.
Posted on 17 October 2019
The High Court has recently given permission for a judicial review of the Metropolitan Police Service's decision to impose conditions under Section 14 of the Public Order Act 1986 on Extinction Rebellion's current protest at Trafalgar Square.  The condition being challenged states that "Any assembly linked to the Extinction Rebellion 'Autumn Uprising'… must now cease their protest(s) within London (Metropolitan Police Service, and City of London areas) by 21:00hrs [on Monday] 14th October 2019." According to the Police, anyone who fails to comply is liable for arrest and prosecution. 
Extinction Rebellion's three demands are as follows:
"Government must tell the truth by declaring a climate and ecological emergency, working with other institutions to communicate the urgency for change." 

"Government must act now to halt biodiversity loss and reduce greenhouse gas emissions to net zero by 2025." 
"Government must create and be led by the decisions of a Citizens' Assembly on climate and ecological justice." 
The Section 14 Order has not stopped people continuing to join the protest at Trafalgar Square and the people assembled there may include regulated members of the legal profession, including solicitors and barristers. 
Taking solicitors as an example, it is possible that anyone regulated by the Solicitors Regulation Authority who participates in the protest in defiance of the Section 14 Order could very well be in breach of various professional obligations. The regulatory provisions potentially engaged by participation might include some of the SRA's Principles, whose breach is generally viewed particularly seriously by the SRA. 
The Principles most likely to be engaged would be 1, 6 and 7, which require regulated individuals to uphold the rule of law and the proper administration of justice (Principle 1), to behave in a way that maintains the trust the public places in them and in the provision of legal services (Principle 6), and to comply with their legal and regulatory obligations and to deal with their regulators and ombudsmen in an open, timely and cooperative manner (Principle 7).  
The SRA
describes its approach to enforcement as 'proportionate, outcomes-focused and risk-based' and states that how it deals with failure to comply with the Principles will depend on all the particular circumstances of each case. Taking that into account, and considering a person's rights to freedom of expression and freedom of association under Articles 10 and 11 of the European Convention on Human Rights, it might appear unlikely that the SRA would take enforcement action against solicitors or other regulated individuals breaching the Section 14 Order. That is particularly so given the Order is currently subject to legal challenge and could be quashed by the High Court. 
However, that outcome is by no means certain and, for now, the Order remains lawful. As such, anyone regulated by the SRA who does take part should be mindful of the risks they run by doing so. They should also bear in mind their obligation to notify the SRA in the event that they are charged with or convicted of an indictable offence, whether or not connected with the Section 14 Order.  
Leigh Day's regulatory and disciplinary team can help you if you need advice regarding regulatory matters.  To contact the team, please email
RDteam@leighday.co.uk
or call Gideon Habel and
Emma Walker
on 020 3780 0406. If disciplinary action is taken against you by your employer because you have participated in a protest and you wish to know whether Leigh Day's employment team can assist you, please contact
postbox@leighday.co.uk
or
020 7650 1200
.