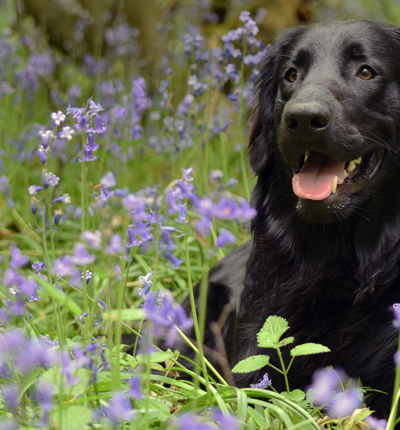 Animals Matter Family Fun Day
Natasha Sherry and Jill Paterson discuss the recent Animals Matter Family Fun Day hosted by Leigh Day
On 23 June 2019, Leigh Day hosted its first Animals Matter Family Fun Day to bring together and raise awareness of a number of charities that work with animals to help improve people's lives.
The event was a roaring success, with over 100 people attending to enjoy the entertainment and the delicious barbeque which was held in the botanical garden at the Royal College of Physicians just next to Regent's Park.
Speakers from a number of charities gave talks about the inspirational work that they do, and shared their stories on how dogs have played an integral role in helping to improve people's lives. Find out below how these charities are working with man's best friend to help those in need.

London Fire Brigade
The first demonstration of the day was by Paul Osborne, Fire Investigation Officer and Hydrocarbon Dog Handler from the London Fire Brigade, and cocker spaniel Sherlock.
Our guests heard how London Fire Brigade's team uses specially trained dogs like Sherlock to help sniff out the causes of fires by identifying the presence of a variety of ignitable substances at the scene of the incident. This can help the Brigade to determine whether a fire was started deliberately, and assist with criminal investigations.
At the Animal Matters day, Paul explained how Sherlock would be able to locate the ignitable liquid which was held in two vials that he had brought along, even when it was hidden amongst all of the food and other distracting smells at our event! Two young volunteers were called forward to hide the vials, and Sherlock was taken into a room behind the gardens so that he would not be able to see where the vials were being hidden. As expected, Sherlock did not disappoint, finding the vials within a matter of seconds, and was treated to a thrown ball as a reward.
Click to read more about LFB's work with hydrocarbon dogs like Sherlock.
Smokey Paws
Next up was the fabulous team from Smokey Paws, a non-profit organisation that works to donate critical pet life-saving oxygen masks to the UK's fire services in order to save the lives of pets that are endangered in house fires.
Our guests heard how Smokey Paws developed oxygen masks which are designed specifically to fit to the smaller and more unique shapes of our furry-friends faces to ensure they get the maximum amount of oxygen possible following their rescue. Their masks come in three different sizes and have been used on dogs, cats, rabbits, snakes, guinea pigs, and even ducks!
Click to read more about Smokey Paws.
Guide Dogs for the Blind
After a short break to sample some of the delicious barbeque food on offer and catch up with our guests, Paul Harman from Guide Dogs for the Blind gave a talk to share his heart-touching experience of life with his guide dog, Star.
Paul explained how he began to lose his sight a number of years ago, and was slowly becoming increasingly housebound as it became more difficult for him to leave the house safely and live independently. Through the assistance of Guide Dogs for the Blind, he was able to obtain Star and regain his independence and confidence, vastly improving his quality of life.
Guide Dogs for the Blind is a charity that helps blind and partially sighted people to regain their confidence and independence through the provision of guide dogs, mobility and other rehabilitation services.

Click to find out more about Guide Dogs for the Blind.
Medical Detection Dogs
Our final talk of the day was from Sue Surbey and her Medical Alert Assistance Dog, Caspar. Sue explained that she suffers from a condition which prevents her from recognising when her blood glucose is dropping to potentially dangerous levels. For a long time, this meant that she would collapse several times a week and have to be taken to hospital. Medical Detection Dogs was able to help Sue by providing her with her Assistance Dog, Caspar, who is able to pick up on subtle changes of odour to detect low or high blood glucose levels, and warn her when this happens. Sue explained how her life has improved since being paired up with Caspar, which has meant that she has only had to attend hospital a handful of times over the last few years. 
Not only does Medical Detection Dogs provide people with dogs like Caspar, known as Medical Alert Assistance Dogs, they also train-up Bio-Detection Dogs to detect diseases, such as cancer, much earlier than is currently possible, by identifying markers of disease in urine, breath and swab samples.
Click to read more about Medical Detection Dogs.
Katie Piper Foundation
We were also lucky enough to be joined by the Katie Piper Foundation, a Charity that offers support to burns survivors throughout their recovery, delivers comprehensive burns rehabilitation post-acute care discharge, and improve outcomes for burns survivors.

Click to read more about the Katie Piper Foundation.
Support Dogs

Finally, perhaps the most excitable dog of the day, Cass, was brought along by the fabulous team at Support Dogs which is a charity that provides and trains speciality assistance dogs to increase independence and quality of life for people with various medical conditions. They specialise in training dogs of three different types: autism assistance dogs, who provide safety and reduce stress for children in social environments, seizure alert dogs for people with epilepsy, and disability assistance dogs for people with physical disabilities.

Click to learn more about the work that Support Dogs does.
We are incredibly grateful to all of our friends at these Charities for helping us to make our Animals Matter Day such a success, and for giving our guests, friends and families a truly memorable day.

View a short film about the Animals Matter Family Fun Day below.