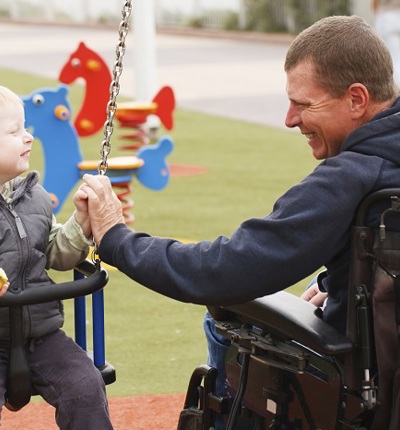 Life after an injury
Get in touch with our specialist team today
more than
35 years' experience
After a serious injury, your life may change forever. From adapting your home to suit your new needs and enabling you to remain independent, to helping your family care for you, making a personal injuries claim can help you secure essential financial support.
Many of our clients require a home adapted to their specific requirements after experiencing a life changing injury. Very few houses are suitable for wheelchair use and they rarely have enough space to accommodate carers or support workers. Sometimes it is possible to extend and adapt a home to make it bigger and more accessible.
Accommodation
After a serious injury, your daily life can change dramatically, which comes with large financial costs. The cost of adapting your house, or buying a larger home to accommodate your new needs, can be included as part of your legal claim.
Your solicitor will be able to advise you on whether a claim can be made for either the adaptation of an existing home or the purchase of a new property. Some example situations where this can apply include:
Adapted accommodation for a child with cerebral palsy, which may change the daily life of the whole family.
Your pre-injury home may not be suitable for extension or adaptation, which means that a new house or bungalow needs buying, either now or in the future.
Adaptation costs of converting a new home for accessible bathrooms and bedrooms.
Your personal injury compensation claim can cover adapting your current home or moving to a new house. Compensation secured can cover:
Adapting your current home
Architects' fees and the costs associated with obtaining planning permission.
Builders' fees for the adaptation work and materials.
Costs of specialist equipment that may be needed in kitchens and bathrooms, such as hoists, or floor lifts.
Environmental controls like electric doors and windows to allow the injured person control their environment.
The cost of ensuring access to the house is as easy as possible, with gardens made accessible through widening doorways and adding slopes.
Moving to a new home
Incidental costs such as estate agent fees, conveyancing costs and stamp duty.
Property search consultants' fees. Where it is difficult to find a suitable property or the client has very specific needs, we sometimes hire a property search consultant and include their fees in the claim.
The annual costs of running a larger house are greater, which can also be included as part of the claim.
Equipment
Equipment designed for people living with serious injuries will help you cope with your daily routines, leisure activities and can also help you return to the workplace. Compensation secured after a serious injury can help fund some of this equipment to improve your quality of life and give back some of your independence.
The type of equipment compensation could be used to cover includes wheelchairs, walking aids and even adapted bicycles.
Working after a serious injury
Returning to your previous job after an injury can be challenging, especially if you are no longer able to carry out all of the tasks demanded from your role. Compensation can cover:
The financial impact of time off from your role as a result of the injury
Working at a reduced capacity to make your job more manageable
Money lost from being unable to return to work at all.
Hobbies and activities
Living with injuries means that some of your favourite hobbies and interests may not be as accessible to you as they were before. Compensation secured can help to fund equipment and adaptations to help you continue enjoying the hobbies you love.
It can also compensate for the physical and mental impact not being able to partake in your previous passions can have on your wellbeing.
Case managers
We can help you appoint an experienced case manager to work on your behalf to help liaise with professionals from several different sectors to assist in improving your quality of life, these include the healthcare sector, social services, employers and educational establishments.
They undertake a pivotal role in the co-ordination and implementation of recommendations for specialist requirements, such as:
Private care and rehabilitation treatment
Transportation
Mobility Housing adaptations
Assistive technology
This can help remove any additional pressure from you and your family.
By appointing a dedicated case manager to work with you on a one-to-one basis, we can ensure you have a single point of contact to oversee the delivery of your care package, equipment and support to meet your needs.
It's important that you and your family feel there is a good rapport with your case manager. This is a long-term relationship and the service they provide is essential to the quality of your life after injury. The case managers we use are generally experienced occupational therapists or nurses.
They will have strong links with other therapists and health professionals who specialise in brain and other types of serious injuries. Often they are the linchpin to setting up a multi-disciplinary team to support your recovery.