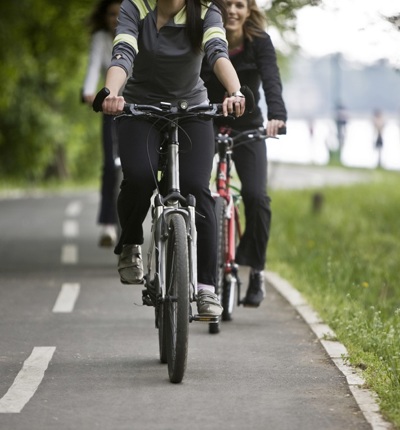 Defective bike claims
Contact our injury lawyers today about starting a bike claim
If you or a loved one is a cyclist and are hurt due to a fault with your bike, you may be able to claim compensation.
Whether racing, mountain biking or commuting, you are entitled to expect your bike is safe to use. If it isn't, you could have a defective bike claim. As the exclusive providers of legal services to members of British Cycling and the British Triathlon Federation, at Leigh Day we're uniquely placed to help with faulty bike claims. We are passionate about cycling and understand that for many getting back out on your bike is a priority.
Our specialist defective bike claims solicitors can guide you through the legal process. We can support in cases whatever the outcome, including those involving serious injury and fatality.
What is a defective bike claim?
A defective bike claim is a compensation claim made when someone is hurt because of a suspected fault on the bicycle.
For bicycle defect claims, it's necessary to prove the defect was:
Present and led to an injury
The responsibility of someone else – such as the manufacturer, shop where the bike was bought or serviced, or importer of the bike or bike part
Bike faults that could lead to a claim
A valid claim could occur due to bike defects such as:
Brake faults
Saddle issues
Bonding failures
Gear set problems
Faulty stems and frames
Cracked handlebars
Problems with pedals, mudguards, and racks
E-bike batteries and electrical faults
The Consumer Rights Act 2015 and Consumer Protection Act 1987
The Consumer Rights Act 2015 sets out that a consumer should have confidence that the products they buy are fit for purpose and of a satisfactory quality.
The Consumer Protection Act 1987 states that producers, suppliers and importers of defective products can be liable for damage caused.
In cases where a product is defective that leads to an injury, there is a right to compensation. That is true of a bike, fridge, sofa, car or any other product.
In the case of a bicycle defect claim, you may be able to claim compensation from the:
Company that sold you the bike
Bike manufacturers
Shop that carried out a repair on your bicycle, if its repairs or a part used was faulty
Manufacturer or seller of a faulty cycle part.
Our specialist solicitors can help you work out if you have a claim and who it may be against to ensure you get appropriate compensation for your injuries and to help make sure that the same thing doesn't happen to other cyclists.
How do you investigate if a bike is faulty?
Investigating whether your bike is faulty can be complicated – which is where specialist legal help becomes valuable. Unlike with cars and other motor vehicles, in the UK there isn't a central register for bike defects.
Our team knows where to look for relevant recall information and to find out if other people have been affected.
We also have great contacts with leading experts who are familiar with how bikes are manufactured and maintained. This helps us understand and demonstrate if there was a fault inherent in the bike and whether it was responsible for an injury.
What can I do if I have an accident caused by a faulty bike?
If you're involved in an accident that you think is due to your faulty bicycle, it is important to contact our specialist solicitors as soon as you can.
This is because it is vital to preserve as much evidence as possible. Photos or video of the scene of an injury are extremely useful. If police or insurers attended, they may have these.
The bike itself, showing its state after the incident is also important, as are photos and records relating to injuries. One of our team can guide you on how to gather and preserve evidence for faulty bike claims.
If possible:
Take photos of the bike, injuries and scene.
Hold on to the bike and don't return it until you have taken legal advice and don't try to fix it or make any changes to it.
Retain proof of purchase of the bike, any repairs or parts.
Get witness contact details.
How do I make a bike defect claim?
Contact us for a free initial consultation. One of our specialist solicitors will listen to your story and will ask questions to help advise on the best way forward.
While every situation is different, when you call it would be helpful if you have the following information to hand:
The make and model of the bicycle or bicycle part.
When, where and how you purchased the bicycle.
The precise location of the incident and whether there were any witnesses.
Details of the injuries.
Don't worry if you don't have this information. Do still get in touch and our experts can help you move things forward.
Who might a defective bike claim be against?
It might not be immediately clear who is at fault, as there can be a number of different companies in a supply chain. Some may be based abroad. Your claim could be against the producer, the importer or the seller of the bike, or someone else.
If you bought your bike with a credit card or via a Cycle to Work Scheme, there may be other routes for claiming damages available to you.
Compensation for a defective bike
The amount of compensation you could secure will depend on the seriousness of your injuries and the impact on your life.
Damages awarded under defective bike claims can cover:
Physical and mental pain
Replacing your bicycle and other equipment damaged
Loss of earnings
Treatment and therapy costs
Travel expenses to rehabilitation sessions
Specialist equipment and care
It is important that you keep a record of the expenses you incur as a result of the incident, as well as receipts.
Many claims are settled out of court. In some cases, it'll be necessary to go to court, where you may be called to give evidence. If that happens, our team will be with you from the beginning to end to explain the process and fully support you.
Why use Leigh Day?
Specialist lawyers
Leigh Day is a specialist and top ranked firm in both personal injury and product liability claims. The team has extensive knowledge of cycling claims specifically. At Leigh Day we combine years of experience in these areas to provide the best legal service you will find.
British Cycling and British Triathlon lawyers
We are the exclusive providers of legal services for the national governing bodies British Cycling and the British Triathlon Federation.
Experienced team
We understand the complexities that can go wrong with a bike and for making a successful claim for damages.