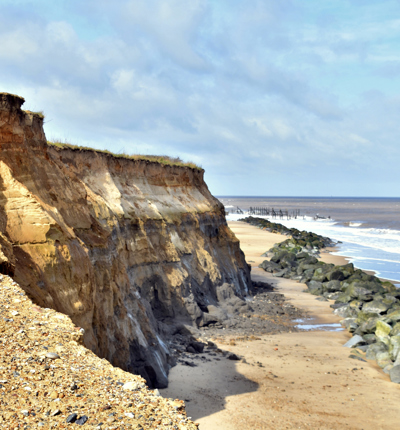 Coastal community and care home resident join Friends of the Earth to legally challenge climate adaptation plans
Friends of the Earth has joined a disability rights activist and a Norfolk householder whose home is under threat from coastal erosion to issue a legal challenge to the government's climate adaptation plans.
Posted on 01 November 2023
Represented by Leigh Day, the group have applied for judicial review of the National Adaptation Programme, which they claim is putting people's lives at risk as the climate crisis escalates.
The Climate Change Act 2008 requires the government to produce a National Adaptation Programme every five years. The latest, NAP3, was published in July 2023 and should outline policies to protect communities from the impacts of climate change, including extreme heat, flooding and coastal erosion.

Friends of the Earth, Doug Paulley and Kevin Jordan say NAP3 fails to set out lawful adaptation objectives, and fails to consider and publish an assessment of the risks to delivery of the plans and policies included.

Doug and Kevin say their human rights have been breached because the government has failed to protect their lives, homes and property from avoidable impacts of the climate crisis.

Kevin lives in Hemsby, a village in Norfolk, and fears that like others, his home will be lost to coastal erosion. It is just five metres from the cliff edge, on the southern edge of the coastal dunes known as Marrams. When he bought his home in 2010, Kevin was told it should be safe for about 100 years, but part of the road leading to his house has since collapsed into the sea, leaving Kevin feeling isolated and anxious about the future.

Supported by the Save Hemsby Coastline campaign group, made up of fellow residents and local community organisers, Kevin says NAP3 includes no strong commitment to provide sufficient resources and support to communities like his living with the risk of erosion and flooding.

Kevin Jordan said:
"Finding myself increasingly frustrated by government backtracking on climate change policies, coupled with the stress and anxiety of lying awake at night hearing the waves pounding at the dunes just five metres from my property, wondering if I was going to lose my vehicle access again or indeed if my house hadn't started to topple over the edge.
I became aware of the government's lack of will to help our village and coastal community and its singularly narrow definition of "Standard Properties" which had put my and others homes under threat of destruction through erosion.
'We need a review of the climate resilience and coastal defence funding policies that takes into account the value that Hemsby brings to the wider community and to attractions around Norfolk as a whole. If this challenge is successful, I hope the government will be forced to take into account the people who are directly affected by climate change and protect them as is their right."
Doug Paulley lives in a care home in Wetherby, West Yorkshire, and lives with long-term illnesses including diabetes and a heart condition, which make him particularly vulnerable to overheating. Doug says NAP3 fails to set out an holistic and joined up approach to addressing heat-related risks across the social care sector.

Doug Paulley said:

"Even when temperatures are in the minuses, I'm most comfortable wearing just a t-shirt and trousers – that should give an idea of how much I struggle with heat intolerance. With the world only getting hotter, it's becoming increasingly difficult for someone with my complex health needs to cope.
"During last year's heatwaves in the UK, I practically had to hibernate to get through it, and couldn't venture outside. Being confined to the indoors is incredibly isolating, as many disabled people who lived through the pandemic will attest. Time and time again we are bearing the brunt of the government's failure to respond to the many, and interlinked, crises facing our society.
"Extreme heat is just one example of how the most marginalised communities are disproportionately threatened by climate change – things like flooding are a huge issue for disabled people too, when it comes to accessing services or even getting to safety. By bringing this challenge with my co-claimants, I want to show that the fight for climate justice is as much about protecting people as it is about our planet."

Will Rundle, head of legal at Friends of the Earth, said:

"This year has set a string of new global temperature records which have driven deadly heatwaves and wildfires across the world, and last July the UK exceeded 40C for the first time ever.

"We need our government to take urgent action to curb emissions and put in place credible plans to keep us safe from the extreme weather and impacts of climate change already devastating people's lives. But the government's latest adaptation plan continues to fall far short of what's needed – and comes amid backtracking on the green policies needed to tackle climate change.

"Our co-claimants are among those most at risk from the climate crisis. We hope this case will lead to more ambitious and effective adaptation plans that better protect everyone, especially those who are already being hardest hit by climate breakdown."

The three claimants are represented by Leigh Day environment team solicitor Rowan Smith, who said:
"Our clients have joined forces to bring this legal claim, because the adverse impacts of climate change are being felt right now, yet they believe the Government's plans to deal with them are woefully inadequate. They will argue that the latest National Adaptation Programme, signed off by Environment Secretary, Therese Coffey, leaves the UK unprepared to meet the environmental challenges it is already facing because of climate change, in breach of clear legal requirements under both the Human Rights Act 1998 and the Climate Change Act 2008."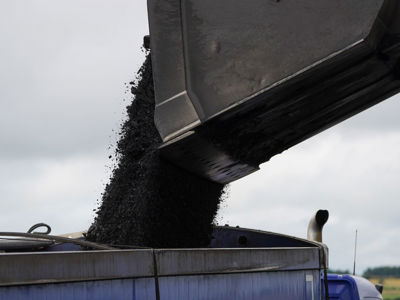 Friends of the Earth file legal challenge over Cumbrian coal mine
Friends of the Earth has filed an application in the High Court to challenge the government's decision to grant planning permission for a new coal mine in Cumbria.