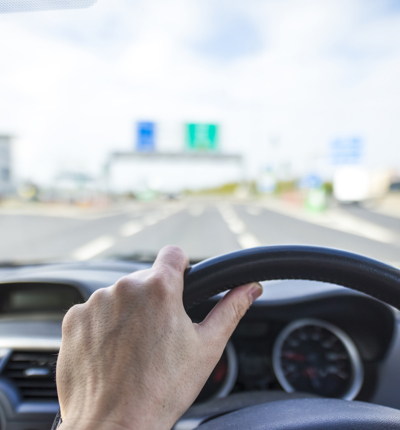 Head-on collision passenger receives £430,000 settlement
A woman who was a front-seat passenger in her son's car has received a £430,000 settlement after she suffered life-threatening injuries in a head-on collision on an unlit road at night.
Julie Payne was so badly hurt in the road traffic collision that treatment for her injuries will be recorded in a medical journal. However, the circumstances of the collision meant that the Defendant driver's insurers immediately accepted liability and agreed to fund Julie's rehabilitation costs.
The collision happened at 7.50pm on 15 December 2020 when Julie and her son were travelling along the A128 at 35-40mph. A car turned from a side road into the A128 without giving way, drove over a grass verge and on to Julie's side of the road, hitting their vehicle head-on.
 
Although she was wearing a seatbelt, Julie, who was then aged 56, suffered severe multiple injuries. Her son, who was driving, sustained minor injuries. Damage to the car was so extensive that it was written off. 
 
Julie was taken to Royal London Hospital (Barts Health NHS Trust) where she underwent emergency surgery after a CT scan showed fluid around her spleen and liver. She had multiple surgeries for abdominal damage which included abdominal wall rupture, bowel evisceration, traumatic division of stomach and duodenum. Julie also suffered spinal fractures, liver damage and a fracture of her left wrist.
 
She was told that she was only the second person in the world to undergo one of the stomach procedures and her surgery and its outcome would be written up in a medical journal.  
 
Julie was treated in ICU and sedated for approximately three weeks before being moved to a trauma ward. She was at the Royal London Hospital for 10 weeks and was then transferred to St Margaret's Hospital, Epping's rehabilitation facility for a further three and a half weeks before being allowed home.
 
Eighteen months later, she experiences ongoing problems such as shortness of breath, daily abdominal pain, spinal pain, and as well as psychological problems including flashbacks, nightmares, and anxiety. She has regularly had to use a wheelchair if walking for longer periods and is having intensive physiotherapy to rebuild her strength.  
 
Further ongoing complications include degeneration of her left wrist as well as the development of osteoporosis and a lifelong risk of fractures. Before the collision, she was fit and well and lead an active life.
 
The Defendant driver was charged with driving without due care and attention. He pleaded not guilty and shortly before he was due to stand trial the Crown Prosecution Service dropped the charges against him, which was very distressing for Julie. A police forensic collision officer picked up that there was a missing chevron sign on the bend in the road and, in the darkness, the Defendant could have perceived the road as straight. 
 
Julie chose to instruct Leigh Day, one of the Royal London Hospital's trusted legal panel.
 
The Defendant driver's insurers admitted liability shortly after they received the police report into the collision and the claim settled early in proceedings.
 
The Defendant quickly agreed to fund Julie's rehab, paying for an Initial Needs Assessment and the instruction of a specialist case manager, who implemented private physiotherapy, occupational therapy, a personal trainer, and psychotherapy as well as assisting in the purchase of equipment. 
 
Julie said:
 
"My life changed completely after the terrible collision on 15 December 2020 and the injuries I sustained but I will forever be grateful to the doctors and medical staff at the Royal London Hospital who saved my life. With the help of my legal team at Leigh Day in successfully resolving my claim, I now want to focus on trying to rebuild my strength and energy and living life as fully as possible".
 
Julie was represented by Leigh Day partner Laura Murphy who said:
 
"Julie suffered horrendous injuries in the road collision. She had to have emergency surgery and it was only because of the skill and care that she received at the Royal London Hospital that she has pulled through and is able to get on with her life. Nevertheless, her injuries will have a lifelong impact and for that reason I am pleased that we were able to get such a substantial settlement for Julie, including funding for the rehab that will be vital to her ongoing wellbeing. While the settlement cannot undo what Julie has been through, hopefully it will help her and her family going forward."