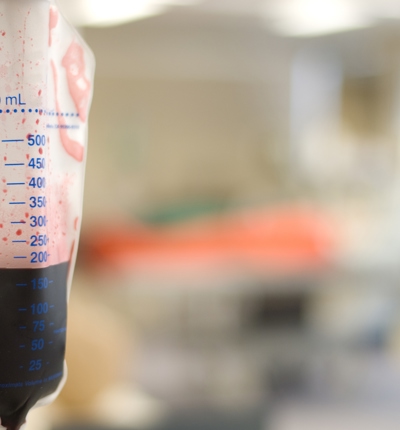 Legal case challenges cut-off date for ex-gratia payments to infected blood victims
A woman whose life has been ruined by Hepatitis C after she was given infected blood in the course of treatment for cancer has issued a legal case to challenge her ineligibility for a government payment.
Carolyn Challis has been refused an ex-gratia payment because she became infected as a result of the transfusions received after the September 1991 cut-off date of the government's scheme to compensate victims of the infected blood scandal.
 
The Department of Health argues that after this date the National Health Service had in place a system to screen all blood transfusions for Hepatits C infection.
 
Only people who became infected as a result of the transfusions received before the September 1991 date qualify for the £20,000 payment.
 
Represented by Leigh Day solicitors, Carolyn has issued a claim in the high court for judicial review of the Secretary of State for Health and Social Care's decision to stick with the 1991 date when all ex-gratia payments schemes were rolled into one in November, 2017.
 
Carolyn, a 64-year-old mother of three adult children, believes she was infected with Hepatitis C as a result of the transfusions received between March 1992 and July 1993 from one of the blood transfusions she received as part of the many medical interventions for her cancer.
 
The virus has had such a debilitating impact that it has cost her her family life. She describes living in a "brain fog" with chronic fatigue and experiencing periods of being completely incapacitated over 10 years.
 
Carolyn is a core participant in the ongoing Infected Blood Inquiry (IBI) under the chairmanship of Sir Brian Langstaff which is due to resume hearings on Tuesday, 22 September when Sir David Owen will be giving evidence.
 
Carolyn's story and her evidence to the inquiry can be found here.
 
Her lawyers argue that the 1991 cut off is wrong because some blood and blood products that entered the NHS system prior to September 1991 were stored by NHS bodies and not used for patients until a period of months and the first- and second-generation HCV-antibody testing processes used to test proposed blood donor were not as accurate or sophisticated as later testing systems.
 
Her grounds for judicial review are:
Mistake of Fact
Irrationality and/or breach of the common law duty to act equally.
Discrimination issues
Indirect Age Discrimination
The Public Sector Equality Duty
 Leigh Day partner Emma Jones said:
 
"The reasons for sticking with the September 1991 cut-off date for eligibility for ex-gratia payments under the infected blood compensation scheme are clearly mistaken for the reasons we have outlined, and wrong in law. We are hopeful that Carolyn will be given permission for judicial review of the Health Secretary's decision and that the decision will be ruled unlawful and therefore overturned so that all those who have been infected as a result of this scandal will be eligible to receive an ex-gratia payment."
 
Leigh Day has been working with individuals who have been infected or affected by contaminated blood for a number of years.  We heard evidence during the first phase of the hearings from a number of individuals who have been refused payment because of the cut off date.  If this JR succeeds it will benefit many individuals.