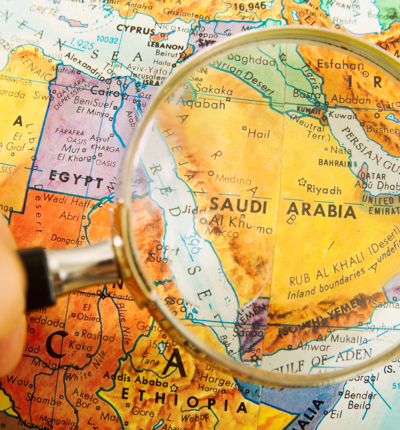 CAAT challenges renewal of exports licences for arms sales to Kingdom of Saudi Arabia
Campaign Against Arms Trade (CAAT) has issued a legal challenge to the UK government's decision to renew arms sales to the Kingdom of Saudi Arabia (KSA) when they might be used in Yemen.
Posted on 27 October 2020
In an application for judicial review filed this week, the group is also challenging the Secretary of State for International Trade, Liz Truss' decision to not suspend licences for the transfer of military equipment to KSA for possible use in Yemen.
Ms Truss announced the moves in July 2020, a year after the Court of Appeal ruled that the Government acted unlawfully when it licensed the sale of UK-made arms to Saudi forces for use in Yemen without making an assessment as to whether or not past incidents amounted to breaches of International Humanitarian Law.
She said steps had been taken to comply with the judgment of the Court of Appeal,  and that the UK had developed a revised methodology to evaluate alleged breaches of International Humanitarian Law (IHL) which had not revealed any patterns, trends or weaknesses. She said incidents which had been assessed to be possible violations of IHL occurred at different times, in different circumstances and for different reasons and were "isolated" incidents. 
This was despite the fact that hundreds of attacks on residential areas, schools, hospitals, civilian gatherings, and agricultural land and facilities have been documented.
Ms Truss has refused to provide any more detailed explanation of her decision on grounds that doing so could prejudice national security and may jeopardise the government's bilateral relationship with the Kingdom of Saudi Arabia. 
CAAT
says the department has:
Failed to identify all of the cases where there has been a serious breach of IHL
Wrongly concluded that there is no pattern to the breaches
Failed to properly take into account the failure of KSA to investigate, prevent or punish serious breaches of IHL itself
Misdirected herself as to the nature of a serious breach of IHL.
CAAT says that violations of IHL found by the UN Security Council's Panel of Experts on Yemen, other authoritative UN bodies and respected NGOs have included indiscriminate targeting; repeated failures to take "all feasible precautions" in verifying targets and avoiding civilian casualties; enforced disappearance, torture and the reported deaths of hundreds of civilians.
It says the open evidence of reports by reputable international bodies establishes a compelling case of repeated serious violations of IHL and CAAT considers the rejection of these reports are not reasonable or justified.
Under s. 9 of the Export Control Act 2002, criterion 2 (c) requires the government to not grant a licence if there is a clear risk that the items might be used in the commission of a serious violation of international humanitarian law.
The grounds for CAAT's claim are:
No proper basis for conclusions that violations are limited to those identified by the Secretary of State 
No proper basis for conclusions that no "pattern" of violations existed 
No sustainable basis for conclusion that Criterion 2 (c) is not met despite "established" record of past "isolated" violations 
Misdirection as to "serious violations" of IHL; and the need to consider whether there is impunity in KSA for such serious violations
Andrew Smith of Campaign Against Arms Trade said: 
"Tens of thousands of people have been killed in this brutal bombardment, yet arms companies have profited every step of the way. These arms sales have only fuelled the destruction and prolonged the conflict. Last year the Court of Appeal found that the government has acted illegally, and nothing that we have seen since suggests otherwise. 
"The government may think that the widespread destruction of schools, hospitals and homes can be dismissed as 'isolated incidents' but we do not. These arms sales are immoral, and we are confident that the Court will confirm that the decision to renew them was illegal."
Rosa Curling of Leigh Day represents CAAT. She said: 
"Our client has provided evidence to the court which shows every independent international body which has investigated specific violations of IHL by the Kingdom of Saudi Arabia (KSA) in Yemen has concluded that KSA has perpetrated repeated violations of fundamental rules of IHL. 
"Such reports have been issued year after year, without any significant evidence of a change in approach or improvement in the conduct of KSA, or the avoidance or past conduct, such as the targeting of crowded markets. Despite this, our government has determined it appropriate to continue to arm the KSA coalition, a decision which our client considers unlawful and a decision we hope the court will overturn as a matter of priority."