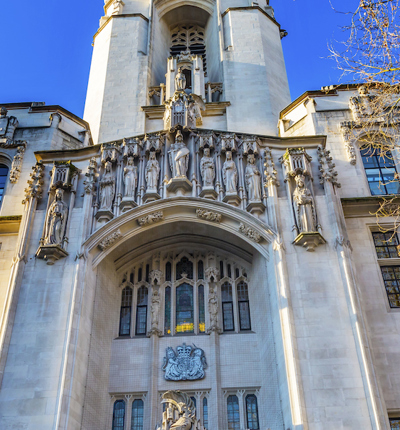 Supreme Court to hear Leigh Day's equal pay case against Asda
The Supreme Court has ruled that it will consider an appeal relating to the comparability stage of the UK's biggest equal pay case brought by shop floor workers against Asda.
The Supreme Court is the final court of appeal in the UK for civil cases. It hears cases of the greatest public or constitutional importance affecting the whole population.
 
Asda has already lost three times and will have one more attempt to defeat the claims brought by over 35,000 of their employees in the Supreme Court.

The Court of Appeal ruled on 31 January 2019 that the roles of the shop floor workers could be compared to the roles of those in the distribution centres for the purposes of equal pay. The Employment Tribunal had originally made this ruling in October 2016, and this was confirmed by the Employment Appeal Tribunal in August 2017.

The case will now be heard at the Supreme Court, at a date yet to be set, to hear again the arguments put forward by the shop floor workers, who are represented by law firm Leigh Day, through the website equalpaynow.co.uk.

Alongside today's ruling, the Asda workers' equal pay case continues as they must be successful on three separate points before then can confirm overall victory:
Are the roles comparable?
If the roles are comparable, are they of equal value?
If they are of equal value, is there a reason other than sex discrimination that means the roles should not be paid equally?
Visit our Equal Pay Now website if you are a supermarket worker
We are challenging the unjust treatment of supermarket and high street shop workers, who do long hours and arduous work, yet are paid less than their colleagues working in warehouses and distribution centres. Find out more about our challenges against ASDA, Tesco, Sainsbury's, Morrisons, Co-op and Next.
Today's ruling relates to the first part of the claims only.  The second part of the claim, relating to equal value, is currently being heard by the employment tribunal. Hearings took place in the Manchester Employment Tribunal in May and June 2019 and a judgment about the first batch of job descriptions is expected in autumn later this year. 

Law firm Leigh Day represents over 40,000 shop floor staff in total from the big five supermarkets – Asda, Sainsbury's, Tesco, Morrisons and the Co-op - in similar equal pay cases which will be impacted by this judgment.

The shop floor workers, who are mainly women, argue in their legal case that they should be paid equally to their colleagues in the supermarket's distribution centres, who are mainly men, for their work of equal value.

The total estimate of the claims against the five supermarkets, if they lose their cases, and are ordered to pay all eligible staff could be over £8 billion, according to Leigh Day.

Lauren Lougheed, solicitor at Leigh Day representing the Asda workers, said:

"It is disappointing that Asda has refused to accept the ruling of three courts on the issue of comparability. However, our clients from Asda and across all the big five supermarkets should not be disheartened, we are as determined as ever to continue their fight for equal pay. We hope that we can win on this issue for the fourth time in the Supreme Court, to prove once and for all that the roles are comparable, and continue on to win the overall fight for equal pay for our clients."