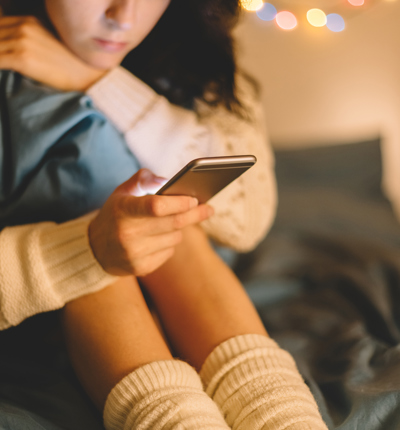 Family of Molly Russell calls for greater protection for young social media users
The family of 14-year-old Molly Russell has called for great protection for young people using social media platforms and has welcomed new plans announced by the government.
Posted on 27 January 2019
Molly was found dead in her bedroom in November 2017. She had shown no obvious signs of severe mental health problems in the months before her death and had spoken to her family about a number of things she was looking forward to in the coming months. 
 
Since Molly's death her family have learnt that Molly was accessing online material linked to anxiety, depression, self-harm and suicide. Molly received emails and suggestions from social media platforms directing her to more material of this nature which her family believe contributed to her state of mind and her death.
 
Molly's father Ian Russell has been speaking to the BBC about the family's quest to learn more about Molly's online activity and the material available on such platforms relating the mental illness and self-harm.
 
This week, the Minister for Suicide Prevention, Jackie Doyle-Price announced that the government aims to reduce the number of self-inflicted deaths by ten percent by 2020. She also called on technology companies to do more to block harmful content and to sign-post people to help and support. 
 
The inquest into Molly's death is due to be held later this year. Her family is being represented by Merry Varney, solicitor at law firm Leigh Day.
 
Ian Russell said:
 
"We are very keen to raise awareness of the harmful and disturbing content that is freely available to young people online. Not only that, but the social media companies, through their algorithms, expose young people to more and more harmful content, just from one click on one post. In the same way that someone who has shown an interest in a particular sport may be shown more and more posts about that sport, the same can be true of topics such as self-harm or suicide.
 
"We welcome the minister's announcement regarding the intention to reduce self-inflicted deaths and we echo her call to social media companies to be more responsible in relation to harmful content and to do more to ensure that those viewing such content are also provided with prominent information about accessing help and support."
 
Merry Varney, solicitor at law firm Leigh Day who is representing the Russell family, said:

"We have seen through our work the significant impact that social media can have on young people's mental health. We are pleased that this issue is now being highlighted, driving up awareness and hope that it leads to greater protection and harm reduction measures for young people online."
 
Ged Flynn, Chief Executive of national charity, PAPYRUS Prevention of Young Suicide, said:

"All too often we hear from families bereaved by the suicide of a young person and where pro-suicide sites have been too easily accessed. Automatic signposting that alerts and encourages vulnerable young people to suicide is totally irresponsible. Suicide is everyone's business. It is imperative that those who profit from it must be made to be more accountable. Suicide is the main cause of death of young people under 35."

On Sunday 27 January Health Secretary Matt Hancock annouced that he has written to Twitter, Snapchat, Pinterest, Apple, Google and Facebook (which owns Instagram) to urge them to take more action and announced that the Government is developing a white paper addressing "online harms", and said it will look at content on suicide and self-harm.

Following this Ian Russell said:

"It is clear to us that despite what the social media companies tell the public about their policies of removing disturbing content that such content is still available for young people to find easily and by finding it they have more and more of it pushed on them by algorithms. 
 
"It is time for tech companies to stand up and take more responsibility for the content available to their young users. While many may say it is impossible to 'police the internet' there must be a better and safer way to control what we expose young people to on the internet and to ensure more support is offered to those looking for answers online. This is far too important an issue to simply dismiss as being too difficult.
 
"We are pleased that the health secretary has taken action to write to tech companies to ask for the type of content that Molly saw to be removed. However, I fear that the tech companies have already shown that they cannot be trusted to police this themselves and that legislation may well be needed.
 
"I would like to thank the HM Senior Coroner Andrew Walker for all his efforts so far in helping us try to find some answers about the role of social media in the death of our beautiful daughter Molly."
 
Merry Varney, solicitor from Leigh Day representing the Russell family, added:

"From what we've learnt in Molly's case and the examples of how the algorithms push negative material, it surely needs fully investigating whether these platforms, which often allow users from 13 years old, are contributing to suicides and self-harm. This is important not just  in relation to Molly's death, which is being investigated by HM Senior Coroner Walker, but across the board to assess the impact on young people and to try to prevent further harm."

For practical, confidential suicide prevention help and advice contact PAPYRUS HOPELINEUK tel 0800 068 41 41 text 07786 209 697 email pat@papyrus-uk.org

This article was originally published on 23 January 2019 and was updated on 27 January 2019 to include further statements from Ian Russell and Merry Varney.