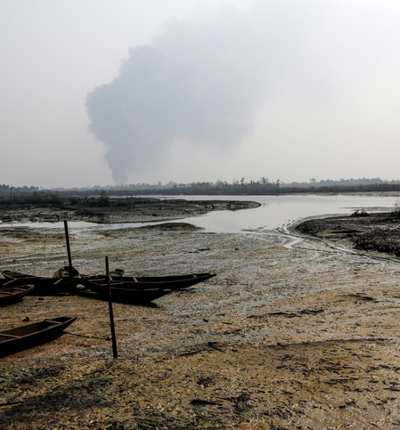 Nigerian villagers vow to take Shell to the UK Supreme Court
Nigerian villagers plan to take Shell to the Supreme Court, after the Court of Appeal rejected their appeal against an earlier High Court ruling which held that there was no case against the English parent company.
Posted on 14 February 2018
The 40,000 Nigerian farmers and fisherman from two communities in the Niger Delta, who are bringing the legal action claim, have suffered from decades of pollution from Shell's pipelines.

They have taken their case to the English Courts on the basis that Royal Dutch Shell (RDS), with its headquarters in London, controlled and directed Shell Nigeria, a subsidiary of RDS.

In January 2017, the High Court ruled that the claim against RDS had no prospect of success and, therefore, that the claim against Shell Nigeria could not proceed. The Judge held that RDS was merely a holding company which did not exercise any control over its "wholly autonomous" Nigerian subsidiary.

The Claimants appealed this decision and the appeal was heard in November 2017.

The Court of Appeal has today handed down its judgment from that hearing and, in a split decision, it has upheld the finding that the English Court does not have jurisdiction over the claims.

The three judges of the Court of Appeal all concluded that the judge at first instance had wrongly excluded important evidence and made errors of law in his judgment.

However, two of the three judges (Simon LJ and the Chancellor of the High Court) held that the Claimants' case against RDS was still "bound to fail" and could not proceed.

A third judge, Sales LJ, disagreed with their analysis and his view was that the claim against RDS was "well arguable".

The judges in the majority accepted that RDS laid down detailed mandatory standards and requirements for SPDC and its other subsidiaries, and monitored compliance with these standards, but concluded that there was insufficient evidence to show that RDS actively controlled SPDC's operations.

However, Sales LJ took the opposite view and concluded that there was a good arguable case that RDS did exercise joint control of the management and operation of SPDC's pipelines.

He found that "The Claimants …have a good arguable claim that RDS assumed a material degree of responsibility in relation to the management of the pipeline and facilities…."

He was also at pains to point out that there was a very real possibility that documents will emerge on disclosure which will provide substantial support for the Claimants' case.

King Okpabi, the Ruler of the Ogale Community said: "We have lost our environment, our farmland and our dignity because of Shell's operations in our community. The English Courts are our only hope because we cannot get justice in Nigeria. So let this be a landmark case, we will go all the way to the Supreme Court. I will not run away from my responsibility to defend the people of Ogale against one of the largest corporations of the world which treats us with contempt."

Daniel Leader, a partner at Leigh Day, commented that: "This is a surprising judgment which leaves these two communities in a desperate position and permits Shell to continue to operate with impunity in Nigeria.

"It sends the wrong message to multinational corporations around the world. The Dutch Court of Appeal reached the opposite view on precisely the same point. We are hopeful that the Supreme Court will grant permission to appeal and will come to a different view."

Despite repeated pleas, Shell has given no indication that it will clean up its oil pollution in either of the affected communities, and instead relies on a Nigerian Government initiative which has failed to undertake any clean-up since it was started in 2011. It is likely that the members of these communities will continue to live with chronic levels of oil pollution for years to come unless this case proceeds in England.
Background
Leigh Day is representing two Nigerian communities (the Ogale Community and the Bille Community), in claims against Shell's parent company, Royal Dutch Shell plc (RDS) and its Nigerian subsidiary, the Shell Petroleum Development Company of Nigeria (SPDC).

Both communities allege that they have suffered systematic and ongoing oil pollution for years because of Shell's operations. Indeed the oil pollution to Ogale's water wells was carefully documented by the United Nations Environment Programme in 2011 and signs have been erected around the town prohibiting the use of water wells.

Shell does not dispute that both communities have been severely polluted by its oil, or that there is yet be an adequate clean up. The communities are seeking justice through the English Courts against the parent company because they maintain that there is sadly no prospect justice in Nigeria.

Cases of this kind in Nigeria tend to take 20 years or more, a situation the English Court of Appeal recently described as "beyond catastrophic" (IPCO (Nigeria) Limited v Nigerian National Petroleum Corporation [2015] EWCA).
The Ogale Community
The Ogale community is a rural community of about 40,000 people situated in Ogoniland in the Niger Delta.

The people of Ogale have traditionally been either crop farmers and fishermen who rely on Ogale's tributaries and waterways as fishing areas. Shell has a long legacy of oil pollution in Ogale.

According to Shell's own records, the community has been impacted by at least 40 oil spills from Shell's pipelines and equipment since 1989, including 23 spills in the past 4 years. Shell's pipelines and infrastructure in Ogale are several decades old and in a poor state of repair making the area vulnerable to oil spills which have caused, and continue to cause, long-term contamination of the land, swamps, groundwater and waterways in the Community.

In 2011 the United Nations Environmental Programme (UNEP) published an Environmental Assessment of Ogoniland which included extensive testing of the Ogale Community.

UNEP's testing of Ogale reported serious contamination of agricultural land and waterways in the community as well as its groundwater, exposing Ogale's inhabitants to serious health risks. Groundwater oil contamination in Ogale was found to be 1,000 times higher than levels permitted under Nigerian law and water in the community was found to be unfit for human consumption.

Community members report that the oil contamination has impacted on their farming productivity, and fishing has all but ended in the community.

Residents are not being provided with clean drinking water – the water scheme that had been introduced in the community has not functioned for the last year and community members who are not able to pay for alternative water often have to drink contaminated water.
The Bille Community
Bille is located in the Degema Local Government Area (LGA) in River State, Nigeria. Populated by nearly 13,000 residents, it is comprised of a number of island towns and fishing settlements that are surrounded entirely by water.

Residents of Bille have traditionally relied on fishing to sustain their way of life, however, following the devastation caused by the spills emanating from an oil pipeline known as the Nembe Creek 30" Trunkline (NCTL) their livelihood has been destroyed.

According to the legal action, the creeks, mangroves and island communities in Bille have been devastated by oil emanating from the NCTL since the replacement of the Bille Section of the pipeline in 2010.

It is alleged that 13,200 hectares of mangrove have been damaged by oil spilled from the Bille Pipelines and Infrastructure, the largest loss of mangrove habitat in the history of oil spills.