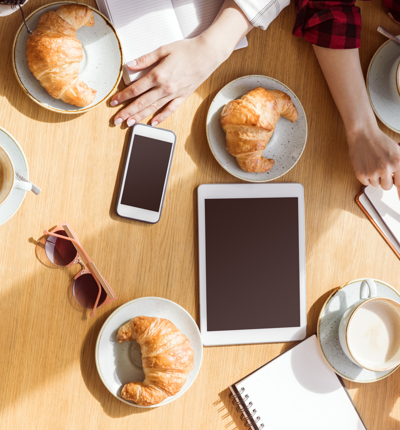 Leigh Day and JLT breakfast forum series marks launch of new Regulatory & Disciplinary team
Leigh Day has launched a specialist legal team to advise and act for professionals and their practices on regulatory and disciplinary matters, including investigations and prosecutions.
Posted on 20 December 2018
To mark its launch in September this year, Leigh Day's Regulatory & Disciplinary team toured the country to host discussion forums for fellow legal professionals to share insights gained from their work as the firm's in-house defence team responding to the SRA's four year investigation, prosecution and appeal arising from the Al Sweady Public Inquiry.

Partner Gideon Habel and Associate Emma Walker shared useful lessons for those dealing with an SRA investigation and to highlight the importance to firms of having adequate Directors & Officers insurance cover to enable them to respond fully to the regulator, including instructing expert independent R&D practitioners to support them.

The nine events, held between October and December, were co-hosted with the firm's insurance brokers, JLT Specialty, who were responsible for brokering the D&O policy which the firm was able to call on to enable it to defend the SRA's allegations comprehensively.

Having adequate D&O cover is particularly important for firms given that most normal PII policies don't cover the costs of dealing with a regulatory investigation or defence. In total, the team hosted over 80 guests, including Senior Partners as well as Risk & Compliance Officers and Managers.

Speaking after the events, Gideon explained, "We found it fascinating to hear about the experiences others have had when dealing with regulatory issues, whether internally or after contact with the SRA. How individuals and firms go about addressing these things remains a really hot topic, particularly with a new Code of Conduct due out next year."

You can read about some of the most important topics discussed during the sessions below:
5 key lessons
1. Be prepared
The SRA isn't obliged to tell you when it starts an investigation, so it's wise to treat any communication from the SRA as potentially related to one and take appropriate precautions, including seeking legal advice. In particular, it's essential to manage your relationship with the SRA constructively from the word 'go'.

The SRA Handbook requires you to cooperate with the SRA, including when it is carrying out an investigation into you. Getting those early communications wrong can have significant and entirely avoidable negative consequences.
2. Insight shows foresight when it comes to hindsight
Carrying out an internal review when a regulatory issue arises demonstrates a responsible approach to your regulatory obligations. The SRA ought to look positively on such a review when it shows insight into past behaviours and learns lessons and changes practices for the future, where needed.

Early, constructive engagement with the SRA (including by self-reporting, where that's appropriate) can also be an effective way to minimise the risk or severity of any enforcement action, but it's not guaranteed to make the SRA 'go away'.

It's still wise to take steps at the same time to prepare for a regulatory investigation and assess the situation with solicitors who can advise you about your duties and what steps to take to achieve the best possible outcome.
3. Are you covered?
It's impossible to know exactly what the outcome would have been for Leigh Day without the Directors' & Officers' (D&O) insurance policy it had taken out before the issues arose. What we do know is it enabled the firm to respond comprehensively to the investigation and the allegations subsequently made with the support of expert external advisers. It also enabled the firm to conduct a full defence in the proceedings, as is fitting in matters of such fundamental importance to a firm and its practitioners.

D&O and other similar policies can be competitively priced but you will need to think carefully about the appropriate terms and package for your practice with your insurance provider, including the level of cover you require: the costs of investigation and of defence assistance can quickly mount up.
4. Keeping the balance
At its core, solicitors' regulation is about ensuring people can trust in the integrity of our work and our profession. This is why, as solicitors, we accept rules governing our conduct. For the regulatory system to work properly, however, it has to be fair. A key part of this is ensuring that those under investigation or prosecution have equality of arms with the SRA when it comes to expert legal advice and representation.

This can be the difference between enabling a well-run firm to carry on business while its advisers deal with the practicalities of an investigation and the same firm's people becoming so tied up with an investigation that it has to fold, even where there has been no misconduct.

Where that happens, the system simply isn't working properly. Making sure your firm is properly covered not only protects your interests but also ensures the regulatory system is as level a playing field as possible.
5. An uncertain road ahead
2019 will see the replacement of the Solicitors Handbook with separate, slimmed-down Codes of Conduct for individuals and firms. The SRA's wants to pass responsibility for regulating conduct back to solicitors and firms with an emphasis on ethical decision-making and exercise of professional judgement.

What this means for the SRA's Enforcement Strategy in practice remains to be seen, but the idea of trusting trained and qualified professionals to exercise their experience and judgement in day to day practice has much to commend it. So, we're at the start of yet another new regulatory journey for our profession.

Whilst the road ahead is uncertain, we hope it'll be a smooth and easily navigable one for us all. If it is, it'll enable us to place far greater focus on what is, for many, likely to be principal reasons for becoming a solicitor in the first place: providing the best possible legal services and outstanding client care to all our clients and ensuring our legal system remains the best and most respected in the world.

Contact us If you'd like to speak to a member of the team to discuss how we can help, contact us at RDteam@leighday.co.uk or 020 3780 0406.