Landmark legal case allows key historical documents which reveal the extent of the dangers of asbestos to be given to a non-party
Judgment from Court of Appeal allows court documents to be released to Asbestos Victims Support Group Forum UK
In a landmark judgment, the Court of Appeal has today ruled that Graham Dring, on behalf of the Asbestos Victims Support Group Forum UK, has a legitimate interest and should be given numerous copies of key documents which, it is understood, will shed light on the knowledge of the dangers of asbestos held by Cape Intermediate Holdings Limited, a global manufacturer of asbestos products.  The documents were used in court as part of a trial in which Cape was a defendant.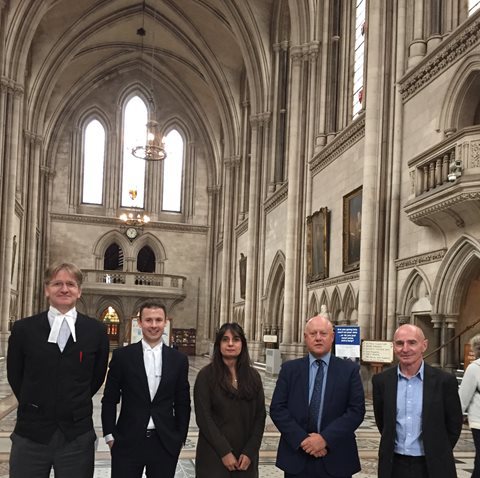 Today's ruling is highly significant in that it upholds an essential part of an earlier decision which is believed to have been first time a non-party to a legal case has established the entitlement to copies of such a large number of documents used at trial. 

Mr Dring was represented by Harminder Bains, Partner at Leigh Day, who initially applied for copies of the documents and an injunction in April 2017 to prevent them from being destroyed under a confidential agreement between Cape and its opponents. 

Miss Bains requested Cape to hand over the documents to the Forum due to their potential significance to issues in asbestos claims. However, Cape refused on the basis that the Forum had no legitimate interest and was not party to the original Court action. 
 
On 5 December 2017, after a three-day hearing, Master Victoria McCloud handed down a lengthy judgment in which she found that the Forum did have a legitimate interest in obtaining copies of the documents requested and ordered that the Forum be entitled to copies of all the documents in the trial bundle. 
 
Cape appealed the Master's judgment to the Court of Appeal.  Although the Court of Appeal has reduced the scope of the documents that the Forum can obtain copies of, it upheld access to all documents which had been read by the trial judge or which he was invited to read.
 
The Forum has confirmed all along that its aim is to provide the documents to interested parties, including academics, lawyers, and members of the public, due to the highly significant and historical value of the documents. 
 
Graham Dring said:
 
"The Court of Appeal judgment should provide access to a significant amount of documents, which Cape intermediate Holdings (Cape) have refused to disclose: documents which may assist mesothelioma sufferers and their families to claim compensation, and which may throw light on the way early knowledge of the dangers of asbestos was hidden from the public. The Forum's application for disclosure was only made possible because our legal team represented us pro bono, confronting a company with deep pockets and access to the most expensive legal representation. The Forum and our legal team have been vindicated by this judgment and Cape should now cease their self-serving resistance to disclosure and accept this judgment in full."
 
Harminder Bains said:
 
"Paragraph 112(ii) of the judgment confirms that the Forum is entitled to copies of the documents which fall within the inherent jurisdiction, which include witness statements of witnesses of fact, expert reports, documents which have been read in open Court, documents which the judge has been invited to read in open Court, documents which the judge has been specifically invited to read outside of Court or documents which it is clear or stated that the judge has read, skeleton arguments, and written submissions. 
 
"Cape should now accept the Forum's entitlement to copies of the documents and put a halt to its determined effort to prevent the Forum and other judges from seeing them.  Cape is fully aware of the significance of these documents.  However, Cape seems determined to use its corporate muscle to prevent the true dangers of asbestos from coming to light.  This should be a concern not only to those involved in asbestos issues but should be a concern to all those dealing with corporate accountability."
 
Counsel representing the Claimants are Robert Weir QC and Jonathan Butters of Devereux Chambers.
 
Photograph shows from Left to Right: Robert Weir QC, Jonathan Butters, Harminder Bains, Graham Dring, Tony Whitston.