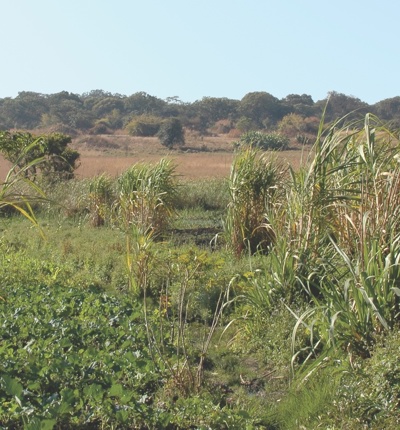 Zambian communities sue copper mining giant in English High Court
Zambian villagers take mining giant to the UK High Court over allegations of water source poisoning from copper mining operations
1800 Zambian villagers are taking legal action in the High Court in London against UK based mining giant Vedanta Resources Plc and Konkola Copper Mines after they claim their water sources and farming land were poisoned from the copper mining operations of both companies.

The 1,800 are members of four artisanal farming communities situated in the Copperbelt region of Zambia along the Mushishima and Kafue Rivers.

They live close to the city of Chingola and next to the copper mines operated by Vedanta Resources plc, a London-listed mining company with revenues of $12.9Bn, which bought a controlling share in Konkola Copper Mines in Zambia in 2004.
An exhausted deep pit mine on the outskirts of Chingola

The communities, Shimulala, Kakosa, Hippo Pool and Hellen claim that polluted water is affecting their health and causing illnesses and permanent injuries. Without piped water from the mains supply their primary source of water for drinking, washing, bathing and irrigating farms are these waters.

The Claimants' primary source of livelihood is through farming as well as some fishing from the rivers. The alleged pollution has devastated crops and affected fishing greatly impacting the earnings of the local people.

London based law firm Leigh Day have now issued proceedings on behalf of the villagers against Vedanta Resources Plc and Konkola Copper Mines at the High Court in London on Friday 31 July 2015.

The lawyers who earlier this year settled a £55m claim against Shell for oil spills in Nigeria, allege that since the take-over in 2004 Vedanta Resources mining operations have been continually spilling sulphuric acid and other toxic chemicals into the rivers, streams and farmland near to where the communities live and farm.

Lawyers who have been over to Zambia to see the effects of the effluent spills and discharges, claim that the pollution primarily stems from the copper processing part of the plant called the Tailings Leach Plant.


Mining effluent being discharged into the Mushishima River, Chingola, Zambia

Much of the infrastructure was built in the 1970s and is over 40 years old and in need of replacement.

Toxic effluent flowing from the Tailings Leach Plant is supposed to be caught by a Pollution Control Dam however the dam is believed to be at capacity and is overflowing directly into the waterways.

The effluent is highly toxic containing chemicals such as sulphuric acid and high levels of heavy metals. The Claimants are seeking compensation for their loss and damage to their land and their health suffered as a result of the pollution.

Most importantly they want the Defendants to clean up the pollution and stop continuing to pollute so that they can return to their normal way of life.

Senior partner at Leigh Day, Martyn Day, who is representing the villagers said: "These communities have been suffering greatly for the last ten years with nothing being done to assist them or to stop the pollution.

"As one of the world's largest mining companies Vedanta should be doing all it can to assist these communities yet they continue to devastate the lives of the local people who are powerless against such a big company. We hope that we will be able to bring them some justice through the court process in England."