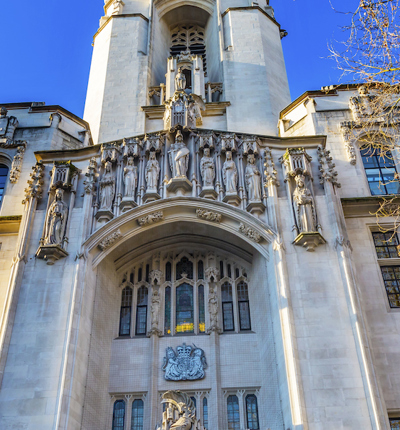 Dawn of a new era: class action revolution following Supreme Court ruling in Mastercard V Merricks
Shazia Yamin discusses the recent Supreme Court judgment which granted permission for a class action against Mastercard for allegedly overcharging 46 million British consumers during a 15-year period.
Posted on 12 January 2021
In December 2020 the UK's Supreme Court gave the go ahead for a class action against Mastercard in a claim that may involve almost every adult in the UK and be worth an estimated £14 billion. It would represent the largest damages action ever in Britain and has the potential to change the legal landscape for consumers seeking collective redress.

The allegations against Mastercard date back to 2007 when the European Commission found that the company was breaching competition laws by charging excessive fees for the use of its services in cross-border transactions. The certification of the case had initially been blocked by Competition Appeal Tribunal (CAT) but this has now been overturned by the Supreme Court. The case has been sent back to the CAT to be reconsidered.

This landmark case is the largest class action brought under the collective action regime introduced by the Consumer Rights Act 2015 for anti-competitive behaviour.

The regime introduced by the Consumer Rights Act came into force in October 2015 and enables consumers and businesses to bring a class action for the infringement of EU or UK competition law on an opt-out basis. This allows a claim to proceed on behalf of all those who fall within a class of unnamed or even unidentified claimants unless they positively take steps to opt-out.

Prior to the introduction of this regime, the only avenues of collective redress available to claimants were group litigation orders (GLOs) and representative actions. GLOs can be made in claims which give rise to common issues of law and fact being brought by multiple claimants. They proceed on an opt-in basis and require claimants to take positive steps to join the claim, following which they must be entered on to the group register.

Representative actions effectively proceed on an opt-out basis, with representative claimants being able to bring a claim on behalf of others have the "same interest".

It is not necessary for the other claimants to be identified and they are not parties to the proceedings. However, the court's permission is required to enable enforcement of a judgment or court order against anyone who is not a party to the action.

Given the above legislative landscape, some decry the ruling as signalling a shift towards a class action culture associated with the US, however consumer groups have welcomed the decision as representing an important win for consumers.

Consumers in the UK have historically had to fight harder to enforce their rights than consumers in the US, and on many occasions UK consumers find that class action proceedings started in the US arising from a parallel set of facts are settled long before any remedy is provided by the UK legal system.

This decision represents an important step in not only levelling the playing field between consumers in different jurisdictions, but also between consumers and big businesses as a whole.

Criticisms of the decision largely flow from concerns that the lower threshold for certification of a class will encourage claims without merit being filed.

However, courts can and should be trusted to weed out frivolous claims, and any lack of trust in the ability of the courts to perform this function should not be used as a mechanism to limit the ability of consumers to seek redress.

Shazia Yamin is an associate solicitor in the product safety and consumer law team at Leigh Day. The team specialises in large scale product liability litigation and are joint lead solicitors in the Volkswagen NOx emissions claim. They are also bringing a group claim on behalf of Mercedes-Benz owners, following similar allegations of emissions cheating.