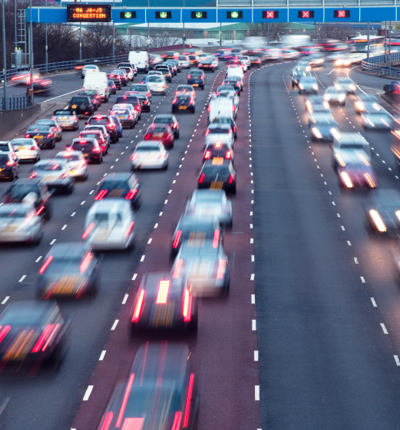 Smart Motorways – Do they make motorways safer?
David Preston, solicitor in the personal injury team, discusses smart motorways and whether they make motorways a safer place for drivers.
Posted on 31 January 2020
There has been a lot of recent national media attention over 'Smart Motorways' following the BBC's panorama programme on Monday night called 'Britain's Killer Motorways?'.
 
It was revealed following a freedom of information request by the BBC that 38 people have tragically lost their lives on Smart Motorways in the past 5 years. There are also high numbers of serious injuries caused by collisions on Smart Motorways. In my view Smart Motorways have unnecessarily increased the number of crashes (and so deaths and serious injuries) on the UK motorway network.  
 
Smart Motorways use technology to adapt motorway usage according to traffic levels. Speed limits can be altered and lanes can be opened or closed.  Stretches of Smart Motorways with 'Dynamic Hard Shoulders' enable the hard shoulder to be opened to traffic temporarily.  On 'All Lanes Running' Smart Motorways, the hard shoulder has been replaced with a permanent additional carriageway.
 
In both cases, there are huge safety concerns when motorists break down. There are emergency areas at the side of the motorways which motorists are urged to drive to (if possible). At present these emergency areas are infrequent and unevenly spaced. Clearly it is not always possible to continue driving a broken down vehicle to the nearest emergency area.  This will often lead to motorists bringing their vehicles to a halt in busy open carriageways.  
 
Breaking down in an open carriageway is extremely dangerous. It often results in 'near misses' when passing motorists don't realise the vehicle is broken down until the last minute and swerve precariously.  There were several vivid examples of near misses on the BBC Panorama programme and I would urge anyone interested in the topic to watch the full programme. There was also a recording of a 999 call from a motorist reporting a breakdown in which you can hear the sound of a high speed collision. It was shocking to hear and brings home the dangers.
 
Government advice in the event of a breakdown on a Smart Motorway (where it is not possible to get to an emergency area), is to pull up close to the nearside verge, switch on hazard lights and exit the vehicle if safe to do so. If this is not possible, passengers should remain in the vehicle with seatbelts on and call emergency services immediately.
 
Those involved in near misses are the lucky ones (but they may not appreciate it at the time). I represent bereaved families and seriously injured clients in my role as solicitor. I see the devastating consequences of road traffic collisions on a daily basis.
 
I urge the government to abolish Dynamic Hard Shoulders / All Lanes Running sections of Smart Motorways entirely. At the very least, many more emergency areas should be created for motorists to use when they break down. I hope that Transport Secretary Grant Shapps will make good his intention to change smart motorways for the better, as quickly as possible.