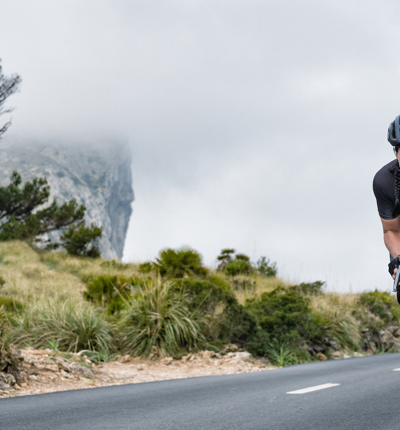 Reminiscing about Route 66
William Broadbent from Leigh Days cycling team reminisces on his discovery of cycling through the National Cycle Network and one iconic route in particular. As the team's challenge to collectively ride throughout the month of July in support of cycle infrastructure comes to a close, William discusses how these routes are a gateway to discover the world.
A warning before I start. For petrol-heads looking for an article about cruising down an American highway with the roof down in a muscle car, you will be sorely disappointed by what will follow.

Similarly, for those who have guessed that this will be about cycling, if you are looking for an article about a cycle route tracking the iconic American route, you may also be disappointed. No, this is about a Route 66 closer to home. Indeed, passing a few hundred metres from my childhood home.

This month, Leigh Day set a challenge to cycle the length of the National Cycle Network. As part of this, I wanted to share my thoughts on one particular route, Route 66.

Route 66 is part of the National Cycle Network, running from Manchester to Kingston Upon Hull. At just over 130 miles long (of which just over 50% is traffic-free), it isn't the longest route, nor the most scenic. Indeed, in parts it is need of work and could be improved. Yet for me, it is the essence of what a cycle route is.

To start my reminiscence, I go back to when I got my first bike aged 14. I was one of the last of my group of friends to get a bike, missing the fun of "cycling proficiency" at primary school. Instead, I spent those sessions looking longingly out of the window and painting pictures. Fair to say from my appalling efforts at art, this was not time well spent. But finally I got my bike. My pride and joy. A fairly hefty Saracen Tufftrax (other first bikes are available).

If only I could get it to work. For those who have seen my ungainly frame perched atop of a road bike that looks too small for me, it'll come as little surprise that cycling didn't come naturally for me. It seemed like a battle between which would give up first: me or my father's back. For someone who could get A's in Physics, the laws of gravity and momentum did not seem to be my friend.

Eventually however, I learned the mysterious secret was to pedal forwards and conquered the laws of nature. The question now was what to do with my new-found freedom. My mother told me about "the Greenway" down at the bottom of the road. Finding a strangely grand gateway just next to the Marmeville pub, I saw a ribbon of traffic-free, pothole-free tarmac and off I went.

Within metres though, it ended and I emerged onto a backstreet of Ravensthorpe. This was not the route I hoped for but again perseverance was required. Pressing on from this inauspicious start, I was soon was back on traffic free paths. Finally, I had the peace and freedom to "hone my skills" (mainly not falling over sideways).

Regular trips gave me the confidence and practice - even doing the odd bit of "mountain biking" off the side of the path. Skip forward a few years and I work in Leeds. Lo and behold, Route 66 is there again. It was not the most direct route and, at this stage, the ride was a little too far for me to do on a daily basis.

However, when the day was long enough (and ideally the sun was shining) it made for a far more pleasant commute than sitting or standing on the crowded 08.13 to Leeds and enduring Morley tunnel - the only place that's ever made me feel claustrophobic.

Work time over, turning off Route 66 on to Route 696 heads up towards Keighley and Skipton. "The Gateway to the Dales". As a proud Yorkshireman, the Dales are a place always close to my heart. It's rugged beauty, even on the bleakest of days (when you really get the feel of where the inspiration for Wuthering Heights came from), will always be a draw for me.


William's trusty bike on Route 66, by Victoria Tower on Castle Hill, overlooking Huddersfield

Indeed, this route now has the added nostalgia of passing East Riddlesden Hall, the venue for my wedding. It makes me think that I could have cycled there now. Turning up late, covered in grease, having suffered a broken chain would have made a great wedding day story, or a very early end to married life.

I have to say, it is a while since I was on Route 66. But, for me, this is why Route 66 is the essence of the importance of a cycle route: a safe place to learn to ride; a safe, comfortable (and free) way to commute to work; and, a gateway to freedom and adventure. It may not be the best route, but it certainly ticks all the boxes.

This is why the National Cycle Network is so important to young and old alike. They give access to so many opportunities. With climate change, an obesity crisis and mental health more in focus than ever before, the importance of providing these routes and getting people on their bikes cannot be under-estimated.

The majority of Route 66 has been unaffected by the recent Sustrans review which has resulted in thousands of kilometres of routes being removed from the National Cycle Network. While it is sad to see the loss of these routes, it is of course essential that the routes are safe and suitable for everyone to enjoy.

This will mean that some routes have to be removed or changed from time to time, but this is key to having a modern, fit-for-purpose, network. I look forward to seeing new and improved infrastructure coming in to replace these routes, and add new routes, in the future.

All being well, I plan to ride part of the Route again soon. If I do, I'll provide an update on what it's like today, and whether I can still do my few mountain bike tricks.