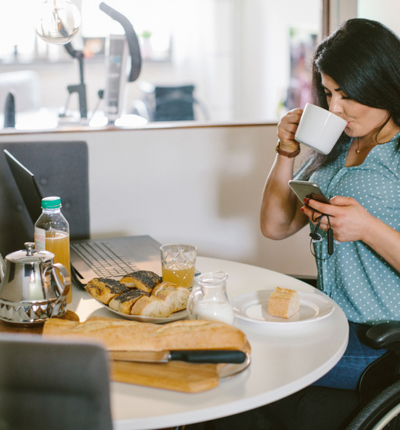 Universal Credit - backdated payments not the end of the story
Ryan Bradshaw debunks the myths around the government's back payments for people with disabilities who have lost out to Universal Credit
Posted on 20 September 2019
Since we announced our group claim for the thousands of disabled people who have lost vital benefits following migration to Universal Credit the government has announced that it will make backdated payments to those who have lost out – seemingly this would rectify their mistake and make our group claim obsolete, but unfortunately this is not the case.
On 22nd July, just over a year after TP & AR's first successful challenge of the government's failure to protect disabled people who have migrated to Universal Credit, the Department of Work and Pensions announced that payments are finally to be made to some of those who have lost their Severe Disability Premium. But what does this actually mean for those that have lost out? 
Are the backdated payments of Universal Credit enough?
The decision to make backdated and ongoing payments of "up to £405 per month" was widely reported as a victory for 13,000+ disabled claimants who have experienced a significant drop in income since being signed up to the new regime. While we are pleased that our efforts in Court have driven a change in government policy the new payments and proposals do not go far enough to make up for the removal of the premiums in the first place.
The regulations show that there are various caveats surrounding these payments, such as:
The widely reported figure of £405 applies only to joint claimants who were in receipt of the higher rate of Severe Disability Premium; 
The payments do not include compensation for months of pain and distress experienced by many due to the removal of a vital and significant part of their income; 
The Enhanced Disability Premium (otherwise known as the 'Disability Income Guarantee') is not included in the plans; 
Strict eligibility guidelines determine exactly who is eligible for the payments, which in practice could mean that far fewer that the government's estimate of 45,000 people will actually receive the payments.
How have Universal Credit backdated payments been decided upon?
The details can be found in Regulation 63 and Schedule 2 of The Universal Credit (Managed Migration Pilot and Miscellaneous Amendments) Regulations 2019. Additionally, in the same regulations, the government has announced a time limit on the current protections preventing ongoing Severe Disability Premium recipients from migrating to Universal Credit.
The Government has decided that backdated and ongoing Universal Credit payments will be made to bring the overall level of benefit received up to the same level as under the previous benefits system. Those lucky enough to receive backdated payments, within the government's restricted group, will still not receive the total amount of money lost as a result of the removal of the premiums.  
Are we still bringing a legal claim for people who lost their disability premiums?
We have heard from numerous claimants who feel that the transition award they have been given does not adequately reflect what they have lost – nor does it provide any compensation. We have also heard from numerous claimants who have not been granted any payments, or who have been provided with conflicting information from the DWP.
We are continuing to build a group claim to ensure that claimants are compensated for their losses, and we wish to hear from anyone who has migrated to Universal Credit and lost their premiums prior to 16 January 2019, whether or not any transitional award has been given. 
What are the next steps in the Universal Credit group claim for those with disabilities?
Rather than addressing the multitude of issues with Universal Credit the government instead decides to spend money on a positive PR campaign and legal appeals. These appeals are against the very decisions which found that the government had discriminated against claimants under Article 14 of the European Convention on Human Rights, prompting the government's eventual decision to make transitional payments. 
The DWP has not shown any willingness to adequately compensate claimants, and so we welcome contact from anyone else who wishes to join the hundreds of people who have already contacted Leigh Day to seek advice and join the claim.