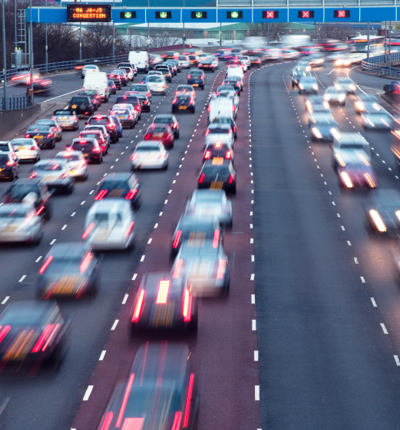 Should we ban hands-free calls while driving?
Personal injury solicitor, Claire Spearpoint, comments on the recent report by the Transport Select Committee on the use of hands-free mobile phones, and the suggestion that there should be tougher restrictions on their use
Posted on 17 October 2019
Most drivers accept that the use of a handheld mobile phone should not be undertaken whilst driving as this would prove to be a distraction. However, MPs have considered whether the perceived 'safe' option of hands-free could also prove to be as much of a distraction and be an avoidable contributing factor to many accidents.
The Transport Select Committee report published in July 2019 details that in 2017 there were 773 casualties, including 43 fatalities and 135 serious injuries, in road traffic collisions where a driver using a mobile phone was a contributory factor in the crash.  

Paragraph 19 of the report states:

"A hands-free device can be used lawfully, creating the misleading impression that hands-free use is safe. The evidence shows that using a hands-free device creates the same risks of a collision as using a hand-held device, and it is therefore inappropriate for the law to condone it by omission."

The report goes on discuss how mobile phones could diminish a driver's ability to concentrate as much as alcohol, but using a mobile is not socially unacceptable unlike drink driving and more education is needed to address this.

Our personal injury team have dealt with claims arising out of a road traffic collision where the driver using a mobile phone was a factor. Sally Moore and her team acted for a pedestrian hit whilst crossing a 4 lane carriage way at a light controlled pedestrian crossing.
As part of the investigations, a full Police accident report was obtained and following escalation of the matter, evidence was eventually obtained which showed that the Defendant had been using his mobile phone in the minutes prior to, but likely not at the time of, the collision. 
This evidence was helpful to show that he may have been distracted and not giving the road his full attention. The Claimant in this case sustained an extremely severe traumatic brain injury at the scene, serious orthopaedic injuries and internal bleeding as a result of the collision.
What is the police position on hands-free?
The Police Federation of England and Wales (PFEW) have said, in response to the report, that hands-free can be just as dangerous as handheld phones and it is an issue with needs to be dealt with. However, PFEW chair, John Apter, also spoke about the challenges a blanket ban of hands-free devices would be to enforce. He said: 

"While we mustn't ignore the evidence, I can't see how having a blanket ban could be practically enforced. The police service has lost 22,000 officers since 2010 and with many gone from specialist units, including roads policing, we already struggle to enforce the laws currently in place to stop people using handheld phones when driving."
Can the use of hands-free devices while driving be banned?
With 95% of households having mobile phones , can there be a change in how we view hands-free calls when driving?  Dr Shaun Helman, a senior lecturer in Psychology at the Open University highlighted in paragraph 31 of the report that: 

"A whole generation of people are just starting to drive who have not known life without smartphones. We are sitting here talking about phones distracting people from driving. What they are interested in is the fact that driving is distracting them from using their smartphone. That is what we are dealing with, and the issue will only amplify over the next five to 10 years."

The need for hands-free calls to be classified as socially unacceptable has been noted and the Government has indicated they will be giving the topic consideration. However, whilst there have been positive comments to the report's findings there have also been responses including "Simply not credible in the real world", "Hands off hands-free" and a headline (albeit slightly tongue in cheek) "If we're going to ban mobiles in cars, why not ban squabbling children in the back too?",  we are clearly some way away from this being socially unacceptable and causing the same moral outrage as drink driving.