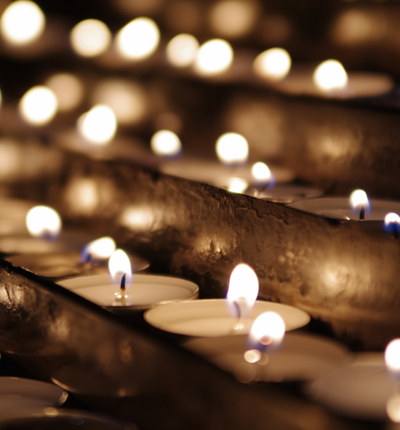 Baby Loss Awareness Week - we've come so far but we hope for more
Solicitor Lauren Tully, who represents parents who have lost their babies due to medical negligence, discusses the importance of Baby Loss Awareness Week in bringing the topic into focus
Posted on 09 October 2019
It is Baby Loss Awareness Week from the 9th to 15th October 2019. This week provides an opportunity to mark the lives of babies who have died during pregnancy, at childbirth, or soon after childbirth, encourage discussion about the impact of loss and raise awareness of the importance of bereavement care for anyone affected by pregnancy and baby loss.
 
There will be many events carried out across the UK to mark the awareness week, including ribbon remembrance displays, remembrance services and fundraising music events. The week will culminate with a "Wave of Light" on 15th October 2019 where everyone is invited to light a candle for an hour in remembrance of babies that have died. 
Reducing baby and infant deaths
Many charities involved in Baby Loss Awareness Week also work to prevent baby and infant deaths. In the UK, it is estimated that 1 in 4 pregnancies end in miscarriage or other loss. In 2017, more than 5,000 babies were stillborn or died within 28 days. In many cases, the cause was unexplained and doctors could not tell parents why they died.
 
In March 2019, a joint consultation was carried out by the Department for Health and Social Care and the Ministry of Justice. The consultation included proposals aiming to improve investigations into stillbirths by bringing greater independence and by enhancing the involvement of bereaved parents into the processes. For many of my clients, the grief felt upon losing a baby is compounded by the need for answers. 

Whilst better investigation will hopefully lead to better procedures and less families enduring this loss, more needs to be done now to reduce the number of preventable stillbirths and neonatal deaths by ensuring that the guidelines which are in place are followed. 
Stillbirth risk factors
A research paper in 2013 concluded that the single largest risk factor for stillbirths is unrecognised intrauterine growth restriction (IUGR). This is when a baby's growth does not increase as expected and is often caused by problems with the placenta. All mothers should have their baby's growth monitored throughout pregnancy during routine antenatal appointments.
The midwife will measure the size of the bump and plot this on a customised growth chart which takes into account the mother's height, weight, ethnic origin and any previous pregnancies. The chart gives an estimated weight for the baby and if there are any concerns that the baby is small for its gestational age, additional ultrasound scans will be requested as this is a more accurate way of assessing the baby's growth. 

One of the mothers I act for was at increased risk of fetal growth restriction but her baby's size was not properly monitored and so her baby's growth restriction was not detected. If it had been she would have been advised have a caesarean section before 38 weeks. 

Incorrect monitoring of growth can also lead to mothers of babies who are 'large for dates' not being given the right information about the risks of complications during labour.  Babies with a high estimated birthweight are at increased risk of experiencing shoulder dystocia.
This is where one of the baby's shoulders becomes stuck behind the mother's pubic bone, delaying the birth of the baby's body. This is an emergency situation and clinicians have to act very quickly to try and release the baby's shoulder. Mismanagement can result in physical injury to the baby or the baby being born in poor condition. 

Another two of my clients, the parents of babies X and Y brought medical negligence claims arguing that they should have been advised that there was an increased risk of shoulder dystocia and counselled on their delivery options including the option of an elective caesarean section. Baby X suffered damage to the nerves her arm from the shoulder dystocia causing paralysis known as Erb's palsy and her mum experienced injury to the perineum. Sadly, baby Y, was stillborn.  

In 2017, 17% of the stillbirths in the UK that could be explained were caused by infection. Myself and my colleagues in the clinical negligence team at Leigh Day have represented many parents who have lost children due to inadequate monitoring for infections. One of our clients, Mrs A, experienced psychiatric injuries as a result of her baby's avoidable death and was unable to return to work. The claim was successful and an action plan was put in place by the hospital which included the appointment of a bereavement midwife.
Baby loss bereavement support
Baby loss is not just a physical loss, but the loss of hopes and dreams for the future and it can be an incredibly lonely experience, especially as the people that you would usually lean on for support are also grieving. A bereavement midwife can be someone to talk to who will listen to you, hold your hand or give you practical advice.

In April 2018 the National Bereavement Care Pathway (NBCP) was launched. It seeks to increase the quality of the bereavement care provided by healthcare professionals after the loss of a baby in pregnancy at any gestation and recommends a dedicated bereavement room in every hospital and bereavement care training for all staff who have contact with grieving parents. 

As someone who deals with bereaved families in my work, I would like to see more discussion about miscarriage and baby loss taking place in the media and in parliament so that those who have and will experience baby loss understand that they are not alone. 

So, this Baby Loss Awareness Week, I ask you to show your support and have the conversations that we need to be having. Baby loss should not be a taboo.