Workplace asbestos registers should be established
Casey Foden considers the work-related risk of contact with asbestos in light of a World Health Organisation new report
Posted on 01 October 2021
The World Organization (WHO) and the International Labour Organization (ILO) have recently produced their first report on the Joint Estimates of the Work-related Burden of Disease and Injury (WHO/ILO Joint Estimates).
The report states that every year an estimated 1.9 million people die globally from exposure to risk factors in the workplace.
One of the work-related occupational hazards is exposure to asbestos. An estimated 209,481 deaths are linked to asbestos exposure each year.
The WHO / ILO figures table containing the number of deaths and life limiting disabilities that are reported each year as a result of asbestos exposure can be located at page 30 of the report.
Exposure to asbestos has been linked to various medical problems, most notably mesothelioma, lung cancer, asbestosis and pleural thickening.
Exposure to asbestos occurs through inhalation of asbestos fibres. Workers in construction, civil engineering, shipbuilding and mechanical industries are among those who are at risk of exposure to asbestos. However, many other workers have been affected, ranging from teachers, nurses and doctors to carpenters, plumbers and electricians.
Asbestos-containing products were banned in the UK in 1999; however, asbestos is still regularly used for its heat protective properties in countries such as Russia and China.
Although the use of new asbestos-containing products was banned within the UK, thousands of people within the UK are diagnosed with an asbestos-related condition each year. This is due to the latency period from the date of exposure to the date of diagnosis which can be anything from 15 to 50 years.
Moreover, the legacy of asbestos in UK building stock has led to many employees tradesmen disturbing asbestos in situ. That "secondary exposure" commonly affects electricians, joiners, painters and decorators, heating and ventilation engineers and builders.
The importation of asbestos products was at its peak in the UK between the 1960s and 1970s with around 172,000 tonnes being imported during this time frame. Asbestos is still located today in many schools, hospitals, factories, and domestic homes across the UK. The risk of potential future exposure is still present.
The Leigh Day Asbestos Team see first-hand the effect that being diagnosed with an asbestos-related condition has on not only our clients, but also their family and friends.
The risk of exposure to asbestos could be prevented through the elimination of the use of asbestos globally. All forms of asbestos currently in place within the workplace should be identified, properly managed and safely removed.
Strict controls should be put in place in the workplace such as effective ventilation, personal protective equipment, and training on identifying and working with asbestos.
Workplace asbestos registers should also be established with details of the possible locations of asbestos within the workplace.
For workers who are known to have been exposed to asbestos, medical surveillance should be arranged to assist with early diagnosis, treatment, and rehabilitation services.
The WHO / ILO joint estimate report can be located here.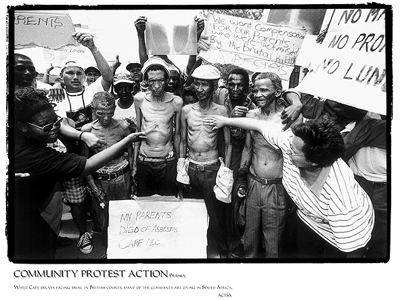 Workers' health & industrial disease
We represent individuals and communities all over the world who have suffered damage to their health and local environment from the effects of pollution and environmental degradation