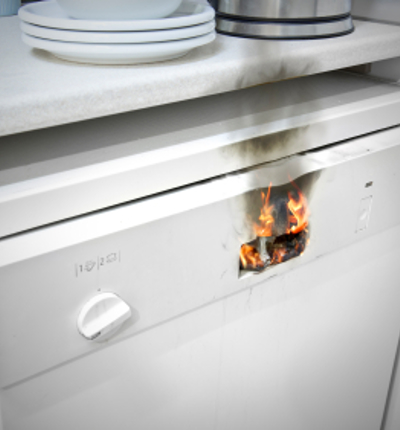 After a fire FAQs
A house fire can turn your life upside down. Find out more about starting a claim.
A house fire is a devastating event that may leave you confused about what to do and where to turn next. Moving forward with your life is important after a fire, but knowing your next steps when you're already feeling overwhelmed can be a challenge.
We're on hand to support you through this difficult time and help make things that little bit easier. Read through some common house fire FAQs below for fast answers around what actions you can take. These include helpful contacts, legal information and other things to bear in mind.
House fire FAQs
The fire brigade will advise you when and if you can return to your home after a fire once they have extinguished it.
There are a few instances where it may not be safe for you to go back to your home, such as if there is significant structural damage. If the fire brigade say it is safe for you to return home, you should take steps to improve the ventilation as smoke may have absorbed into the furniture and fittings.
If you and your family are unable to return to your home straight away after a fire, you will need emergency accommodation.
Your home insurance should say if you have emergency cover included. Alternatively, you should contact your insurer directly as soon as possible to arrange where you will stay.
If you suffer a serious house fire and do not have insurance or emergency cover in place, you should get in touch with the Red Cross. They may be able to provide advice regarding accommodation, clothing and food during this difficult time.
Your local council may be able to help you find emergency housing after a fire. If you have children it will likely speed up the process.
Insurance generally covers the cost of the damage and destruction to your home and belongings in the event of a fire.
Buildings insurance protects you against the costs to repair and replace structural damage.
Contents insurance covers your personal belongings such as furniture, clothing and electronic devices.
You might have home insurance cover that combines both of these. Check your policy for exactly what it covers if your home experiences a fire.
You may be able to make a claim for compensation depending on what caused your house fire. Contact your insurance company after a fire to begin your insurance claim. If you think the fire may have started due to a faulty appliance or something that wasn't your fault, you might be able to bring a legal claim.
Contact Leigh Day for a free initial consultation to discuss your case. One of our specialist solicitors will give you information on the next steps.
Keep a record of your expenses and receipts following the fire so your insurance company can assess all your losses. These might include if you require work done to your home due to structural damage caused by the fire. You may also need to supply a list detailing damage to the property, usually taking photos as evidence.
This information will also be useful if you decide to pursue a legal claim.
You should request a copy of the fire brigade's incident report. You may need to provide it for your insurance claim and for any possible legal case.
The fire brigade will often determine the source of your house fire. Faulty appliances and personal negligence are two of the main causes.
If you are renting the property, then your landlord is responsible for putting fire safety precautions in place. They must provide smoke alarms, repair issues that may cause a fire and ensure all supplied appliances are safe.
You may receive medical treatment at the scene of the fire for smoke inhalation. It is important that you take time to consider the implications that this event has on your day-to-day life. You should consult your GP as soon as possible.
Your employer may provide an allocation of time away from work through compassionate or sick leave. This may apply after a fire depending on the severity of the fire and its impact on your physical and mental health. Your employment contract should detail the types of leave you are allocated.
Here are a few things you should do after a fire, regardless of the outcome. You should always listen to the advice given to you by the fire brigade:
Find out if it is safe to return home.
Review home insurance policy.
Contact the Red Cross or your local council for assistance.
Consult a GP or other medical professional.
Know your rights in relation to work.
Gather any evidence e.g. out of pocket expenses.
Your local council and the Red Cross can provide financial relief, as well as clothing and emergency housing. Having insurance can relieve the burden of having to pay out for damage and losses. The team here at Leigh Day are on hand to help with any queries.
For more information about possible compensation if you've suffered loss, damage and/or injuries after a fire, get in touch with our specialist team at Leigh Day. We're happy to talk through your options around making a claim.