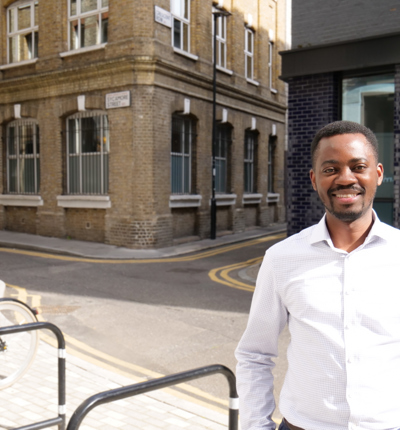 Walker Syachalinga: Trainee in the personal injury department
Walker is a trainee in the personal injury team in the London office.
I grew up in a mining community in Zambia, where I observed first-hand the adverse impacts of unaccountable multinational corporations and the challenges with access to justice my community faced. Aware of Leigh Day's ground-breaking work in the field of corporate accountability, there was no doubt about applying here.
My first seat is in the industrial disease and complex injury cases team, part of the personal injury department. I work with a partner assisting clients suffering from the asbestos cancer, mesothelioma. My time here has taught me that while mesothelioma cannot be reversed, it is a worthwhile pursuit to fight for the dignity of an injured client and to secure for them and their families the satisfaction of knowing that their suffering was not their fault and that those responsible will be held accountable.
During this seat I have developed invaluable skills in marshalling witness evidence, drafting schedules of loss, various pleadings and court orders and learning about strategies to obtain the best outcome for our clients. I have also gained a practical appreciation of professional ethics while my understanding of civil procedure including alternative dispute resolution has been deepened. From my knowledgeable and astute supervisor to motivated colleagues who have been available to offer advice, training at Leigh Day has exceeded my expectations on every count.
It is a privilege to do my first seat in an exciting and fast paced area of law. Asbestos litigation paved the way for developments in tort law which now make it possible to hold governments and corporations accountable for environmental harm to third parties. As the climate emergency takes centre stage, the blueprint laid out in asbestos litigation may prove crucial to holding governments and corporations accountable for climate decisions that impact adversely on some of the world's poorest and most vulnerable people. It is therefore an immense privilege to train in this area.
It's been lots of fun too! A great feature of the personal injury department is that they work closely with charities committed to our clients. So, I sang Christmas carols dressed in a flamboyant jumper and reindeer antlers and took part in running challenges, all for a great cause!
I am training not just to understand the nuances of tort law and use that to expand access to justice. I am also learning to be there for people at some of their toughest moments and to challenge systems that take advantage of those without the means to fight back.