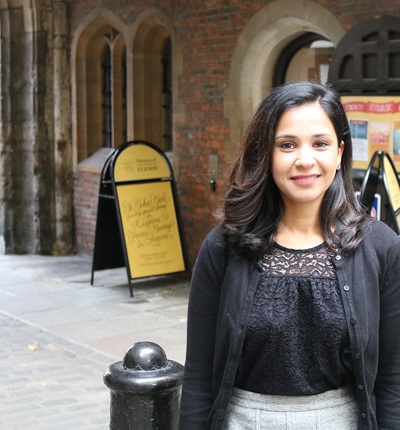 Heetasha Khosla: Solicitor in the PI team
My interest in Leigh Day arose whilst studying the Legal Practice Course at The University of Law. I applied for the University's mentoring scheme which provided an opportunity for students to understand and appreciate what working in law entailed. To enrol on the scheme you are required to complete an application detailing the type of firm and areas of law you wish to gain experience in. The scheme is designed to match your profile with similar firms and fortunately for me my profile paired me with Leigh Day, to which then my journey began! I had followed the work of Leigh Day for some time and I was thrilled to be given the opportunity to build a connection with the firm.
My mentor was Michelle Victor, a Partner in the Product Liability department. Following an initial meeting, I was invited to undertake a one week work placement where I assisted the team with various tasks. The placement was very informative and in the summer of that year after completing my studies, I was offered a temporary Administrative Assistant position.
What initially started off as a temporary position quickly turned into a permanent Paralegal role. I primarily worked on the Depuy ASR metal-on-metal hip cases acting on behalf of individuals who had suffered an adverse reaction to metal debris and required early revision surgery of their ASR implant. My role largely consisted of assisting with the partner's case load whilst managing a smaller case load of my own under supervision. The exposure was hugely beneficial and I gained experience in dealing with all stages of a claim, from investigating and arranging funding to quantifying claims. I particularly enjoyed the vast amount of client interaction and the continual opportunities to enhance my drafting skills. In May 2016 the ASR cases went to Arbitration from which I learnt a great deal and I am now able to put to use as a trainee.
In between working on the ASR cases, in October 2014 an opportunity to assist in the International department arose. The claim was against Oil-giant Shell and Leigh Day acted on behalf of fishermen and the Bodo community in Nigeria whose livelihood had been destroyed by two massive oil spills. I assisted the team for a three month period and initially worked on finalising the expert evidence prior to service. In December that year a team of us travelled to Nigeria to obtain our clients' agreement to the offer of settlement. Whilst this trip entailed long hours, it was a memorable experience and I was fortunate to meet so many of our international clients. By doing so, I was able to understand and witness first-hand the impact the oil spills had on the community and learn just how much of a difference the settlement money would make to their future. My involvement in this case gave me an insight into the real difference the firm makes in helping those who are particularly vulnerable and would not have a chance to otherwise seek justice.
With almost three years in my previous role, I was attracted to the learning and development opportunities coupled with the supportive, hard-working and friendly environment the firm had to offer. Additionally, with exposure to the firm's beliefs and courage in challenging multinational organisations for the rights of individuals, I was sure that Leigh Day was the firm I wanted to train and continue my career with. I was fortunate to be offered a training contract with the firm which I started in September 2016.
I undertook my first seat in the Clinical Negligence department where I was made to feel very welcome and as part of the team. I was assisting two Associate Solicitors namely, Sanja Strkljevic and James Piers. The cases I was involved with were predominantly high value and included brain and spinal injury cases; amputation cases; delayed diagnosis; birth injury and fatal accident cases. The emotional element that comes with these cases cannot be understated.
I found that working for two Associates gave me greater exposure as they both had varied caseloads which enabled me to develop my knowledge on the complex medical issues that arose in these cases. Getting to grips with the medical side of the law was both challenging and intellectually stimulating. I was always encouraged to express my opinions and further, I was given the time to complete tasks and the opportunity to discuss issues with my supervisors when necessary.
In September 2017 I started my second seat in Personal Injury. I am currently assisting Daniel Easton who is the joint head of the Asbestos and Mesothelioma team within the department. We act for Claimants who have been exposed to asbestos and have subsequently developed asbestos related diseases.
Since joining the department, I have had the opportunity to attend numerous conferences and joint settlement meetings. Additionally, I have taken witness statements from vulnerable clients and their family members. Due to the prognosis for many of our clients it is essential that matters are progressed quickly and efficiently in these cases. I have enjoyed working towards tight deadlines within the team to ensure that our client's objectives are achieved.
In addition to assisting with the industrial disease cases, I also work alongside David Preston, a solicitor in the team who represents clients that have suffered severe injuries as a result of road traffic collisions, accidents at work and incidents involving occupiers' or public liability. I have found learning about two different areas of law within the same seat to be very beneficial for my overall learning and development.
In both Personal Injury and Clinical Negligence, our clients are individuals, who initially, are in a state of distress and have sustained catastrophic injuries which have life changing effects for both them and their family members. Having client contact at this stage and building relationships with these clients is so important in understanding what they have been through and makes the job that we do all the more worthwhile.
Throughout my time with the firm, I have been provided with the necessary support and guidance to progress. The experience and skills I gained as a Paralegal were invaluable and provided me with a steady foundation and a good insight into the work that the firm do. The transition from a Paralegal to a trainee has been exciting and I have particularly enjoyed the responsibility that is entrusted to me and the meaningful and assortment of work that I have been tasked with as a trainee in both seats.
A training contract at Leigh Day is usually two seats as opposed to four, which I feel is beneficial for a number of reasons; being in a department for a year allows you to fully understand the issues in a case, learn how cases progress, build meaningful relationships with clients and there is sufficient time to integrate well in a department.